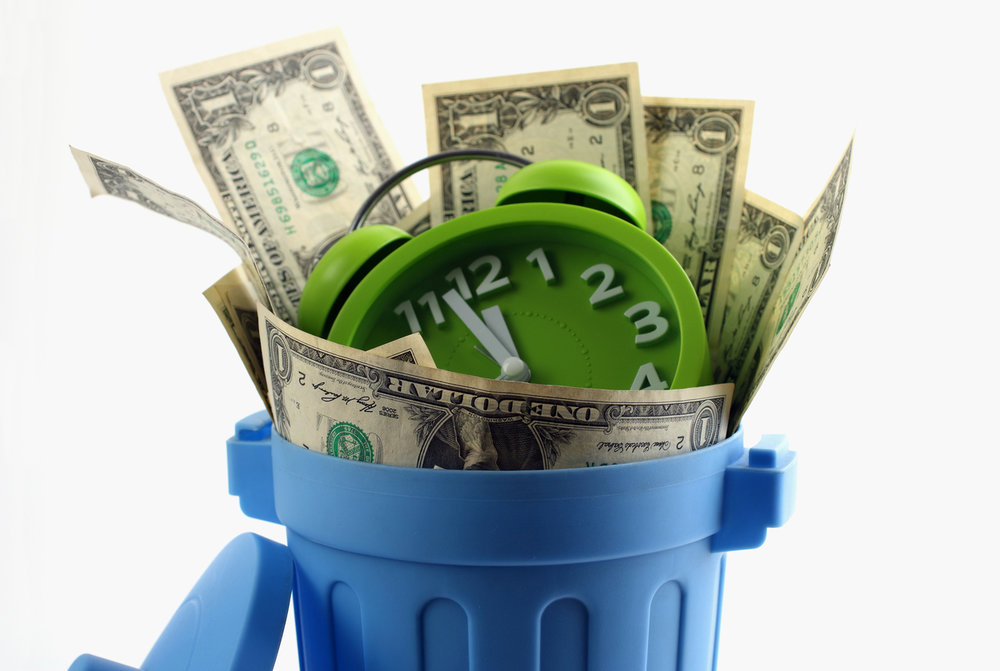 The classic formula for success in the auto retail world is changing. Margin compression is forcing dealers to rethink their strategies, and selling more cars to make more money simply isn't working anymore. If your dealership is experiencing the effects of margin compression, now is the time to rethink your business' internal processes. Here are 9 ways you might be wasting time in your dealership.
1. Trying to combat shrinking margins by selling more cars
Learn 7 solutions to margin compression with our Ebook, "7 Solutions to Margin Compression"
Selling cars has always been the goal, so when bottom lines begin to shrink, the dealer's knee-jerk reaction is to redouble efforts to get more cars out the door. But, profits aren't what they used to be.  Even if you're selling more cars in recent years, this perceived success is more of an illusion than anything else. In fact, for many dealerships, the minimal profit realized through the sale of new and used cars is no longer enough to keep businesses afloat, with some even reporting negative overall gross profits on the sale of new cars.
2. Turning entire focus to the used car market
Some dealerships are adapting to margin compression by shifting to the used car market. And, while this may be an effective strategy for some, not all businesses can completely abandon their new car customers. Besides, used cars aren't completely immune from margin compression either. While it's true that dealers have more control over the acquisition of used cars, NADA has reported a 31% increase in the average used vehicle transaction and a reduction of more than 2% used vehicle gross profit in recent years. 
3. Ignoring or abandoning fixed operations
When other sources of revenue run dry, fixed operations can be the cash cow of car dealerships. Especially in times of slimming margin, dealerships must focus their attention on finding more efficient ways to make money. And, a finely-tuned fixed operations department is one of the most efficient business practices a car dealership can implement. According to the economic research company IBISWorld, the parts and services segment is expected to generate 13.6% of dealerships' revenue in 2017, outperforming both new and used vehicle sales.
4. Failing to emphasize the importance of customer relations
The first and most important rule of the auto retail business is a strong emphasis on customer relations and return customer visits. If you're sending your customers packing with nothing more than a new car, you're wasting your time and a lot of potential profit. Never forget that the process of customer retention begins at the first point of sale. Failure in the sales process to conduct a well-structured sales-to-service turnover kills retention and lessens customer loyalty.
5. Not creating awareness of your offerings
With the proliferation of the corner quick-lube shop, dealerships need to do more to stay competitive. And, that means doing more to create awareness of fixed operations. If your dealership doesn't have a dedicated quick-lube page on its website, it's wasting valuable digital retail space and profit opportunity. Every customer should leave the dealership lot with a firm understanding that quick-lube services are available at your dealership.
6. Not taking advantage of digital communication channels
Most dealerships are familiar with marketing. They utilize TV and radio to promote car sales, but as the formula for success evolves, marketing is an important part of the evolving equation. If your dealership isn't doing more to advertise its service lanes, you're passing up a creative opportunity to generate profit. Leverage social media channels such as Twitter, Facebook, and email to offer your customers a special on a winter tune-up, for example. You'll be surprised how easy and effective it can be.
7. Failing to build retention through F&I
A dealership's Finance and Insurance (F&I) office is one of the most important places for sales-to-service turnover. This is where retention is built and future relationships with customers secured. If your dealership isn't taking advantage of this time to sell prepaid maintenance plans, such as tire and wheel services, you're wasting a valuable opportunity to ensure multiple return visits from your customers. And, while you have their attention, offer your customers convenient and useful upsell services.
8. Forgetting that time is money
Dealers already know that time is money. And, when a dealership takes a lot of time during the vehicle reconditioning process, potential profits flies out the window. On average, a dealership incurs a cost of $32 per day for every vehicle it has on the lot, which can add up quickly if inefficiencies aren't identified and fixed. If your dealership is spending too much time making vehicles frontline ready, it's quite literally wasting time and money.
9. Not valuing dealership employees
The auto industry, in particular, has a problem with recruiting and retaining top talent. Showing your employees that you value their contributions by investing in top technologies that make their work lives easier and more interesting, for example, in time, money, and resources well spent. Another way to show your employees appreciation is through frequent and more focused training. Your employees must realize that times are changing, and that simply selling cars isn't necessarily the primary goal anymore. By giving your employees a glimpse of the bigger profit picture, and how their individual efforts contribute to the success of the overall business, you attract better workers, who relate better to today's changing customers, resulting in a leg up on your competition.
Conclusion
Margin compression isn't going away anytime soon, which is why it's so important to find ways to eliminate waste in other areas of your business. As ominous as it can sometimes seem, margin compression offers a better way of doing business for those dealerships that seek out and follow the new formula for success.
Download our Ebook, "7 Solutions to Margin Compression," to learn how dealers are fighting margin compression