Digital Retailing not only focuses on quantity, but also on the quality of leads. This results in higher conversion ratio and better use of your marketing dollars. This fact can be exhibited in two different scenarios: (1) A Digital Retailing lead ultimately costs less than a basic 3rd-party lead and (2) Digital Retailing delivers a higher ROI on your digital marketing spend.
Our research reveals that Digital Retailing leads can be more efficient for your dealership than basic 3rd-party leads. Digital Retailing leads cost $40-$84 per sale, while 3rd-party leads can run as high as $250 per sale. The following table offers more detail: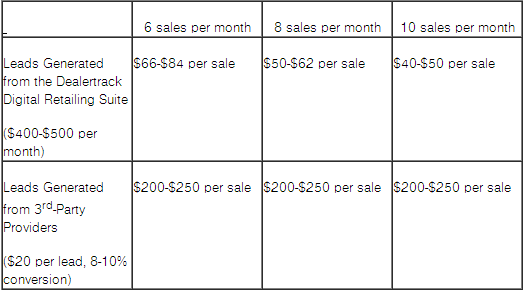 Third-party leads have an important place in your online strategy. However, you should consider adding Digital Retailing to your Internet marketing mix.
Similarly, Digital Retailing provides for a higher ROI on your website costs.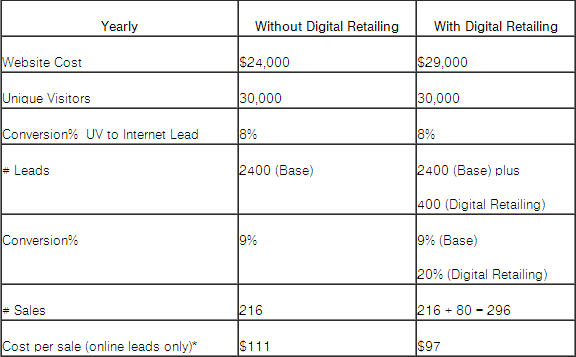 * Does not include the ROI generated from service leads, walk-in, and phone leads.
High-quality, cost-effective leads are just one of the benefits of adding Dealertrack's Digital Retailing Suite to your dealership website. You can learn more by downloading Dealertrack's whitepaper Digital Retailing Delivers and by visiting dealertrack.com/digital.