In large and small ways, technology has changed virtually every aspect of the automotive retail experience. Few areas, however, have seen as much of a transformation as menu selling.
Sitting down with customers to go over product options for their newly purchased vehicle has gone from a piece of paper in the F&I manager's office to an interactive conversation in the showroom. Today, your aftermarket sales should be done on a tablet, where the customer is most comfortable, and should help create a consultative environment – a dialogue focused on meeting buyer needs the best way possible. Technology, in the case of F&I product sales, provides specific and tactical benefits to the process, and in that way gives dealerships an advantage.
If you're researching menu selling solutions, make sure you start with these three questions:
1. Is it possible to include real-time quotes by VIN, or description?
Your menu presentation will be more effective using actual product rates and monthly payment options. Doing so, however, requires technology that can leverage real-time and specific data based on the vehicle VIN. As a result, the presentation is more credible, and monthly payment options more relevant to the customer.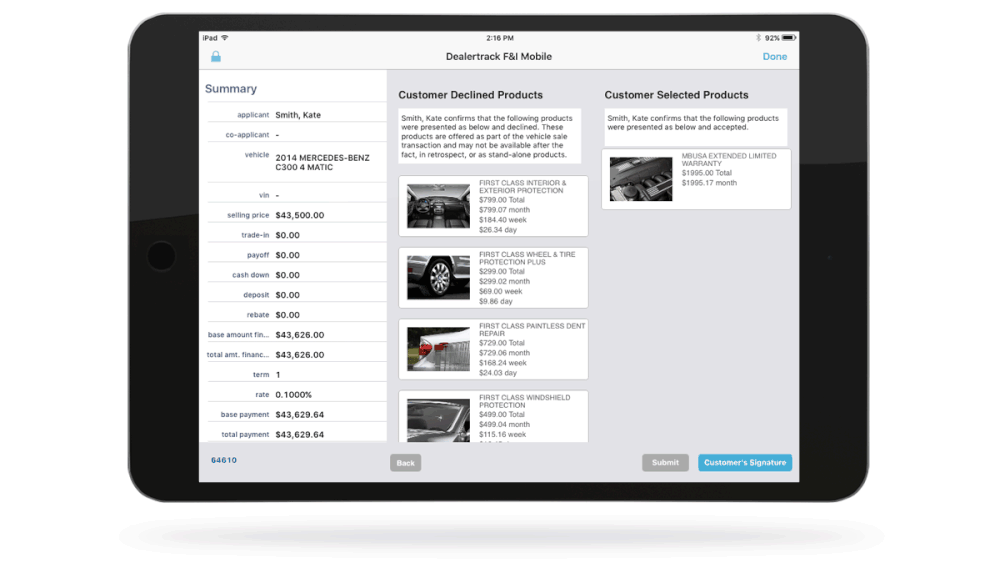 2. Does the solution provide a summary screen of declined products?
A summary screen that includes declined products – with monthly payment amounts – is a very effective way to compare the value of an aftermarket product to a small, incremental monthly cost. It's also a key part of maintaining compliance with required disclosure laws.
3. Can I submit aftermarket contracts to network providers electronically?
This is a perfect example of how technology makes required retail tasks easier and less time-consuming. Submitting contracts electronically means fewer errors, thanks to pre-populated data; it also results in faster fulfillment and reduced chargebacks.
Click here to learn more about Dealertrack's Menu Selling solution, including eMenu, eMenu for iPad and our comprehensive Aftermarket Network.