The technology behind selling vehicles is changing from a dysfunctional array of tools to a smooth and connected journey that fuses the power of online efficiency with in-store, in-person, and at-hand relationship building.
Today's typical car shopper spends most of their time online. It's a fact, and one most of us have known – at least intuitively – for a while. Indeed, Cox Automotive's 2017 Car Buyer Journey Study cinches it: Of the 14 hours or so most people spend shopping for a car, 60 percent of that time is online – not on the car lot. They do all that work, invest all that time, and when they're done they visit one dealership. That's it. And they most often test drive just one car. All that points to one thing: customers increasingly have their minds made up before they walk into the showroom.
In other words, customers go slow – to go fast. They spend many hours online so that the sales and finance experience is designed to their needs and requirements. It's part of an ongoing and unmistakable change in the behaviors that drive automotive retail. Today's optimized dealership must be able to provide the kind of experience shoppers demand – an experience based on connectivity, mobility and efficiency.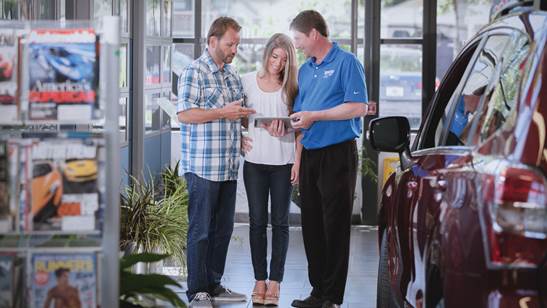 Connectivity of Sales
The technology behind selling vehicles is changing, from a dysfunctional array of tools into a smooth and connected journey that fuses the power of online efficiency with in-store, in-person, and at-hand relationship building. In real terms, what that means is this: The work a customer does online must connect into the showroom, reducing frustration and creating efficiencies throughout the sales and business process. Behind the scenes, that opportunity to connect retail and operational workflows – to create a simplified and data-driven user experience – has the potential to streamline productivity and find areas of profitability at a time when sales may well plateau. Connectivity is simply what keeps the conversation going, and reduces the chance that your important guest is forced to re-tell their story over and over again. Think of it in terms of the test drive: after all those hours spent online, people still must touch the metal and drive the car to believe in the dream of ownership. That's a real connection. When it goes wrong, customers often leave: The Buyer's Journey reported that 1-in-5 new car buyers did not purchase from their initial dealership visit because of a poor sales experience – something that could be caused, in part, by a break in the connection between dealership and customer.
Mobility of the Online World
A substantive and connected sales conversation can and should be had anywhere in the showroom by using mobile to connect online and physical environments. The Buyer's Journey found that 53 percent of shoppers use multiple devices when shopping for a car, and that 18 percent used mobile devices exclusively. Given that, why do we think people stop using their smartphone when they arrive at a dealership? Or that they are somehow more comfortable with a paper and Styrofoam cup experience? With so many connection points, dealerships who use mobile to create a comfortable and transparent environment are building a bond of trust between customer and sales specialist. Once that bond is created, that trust continues into all aspects of the sale – including F&I products.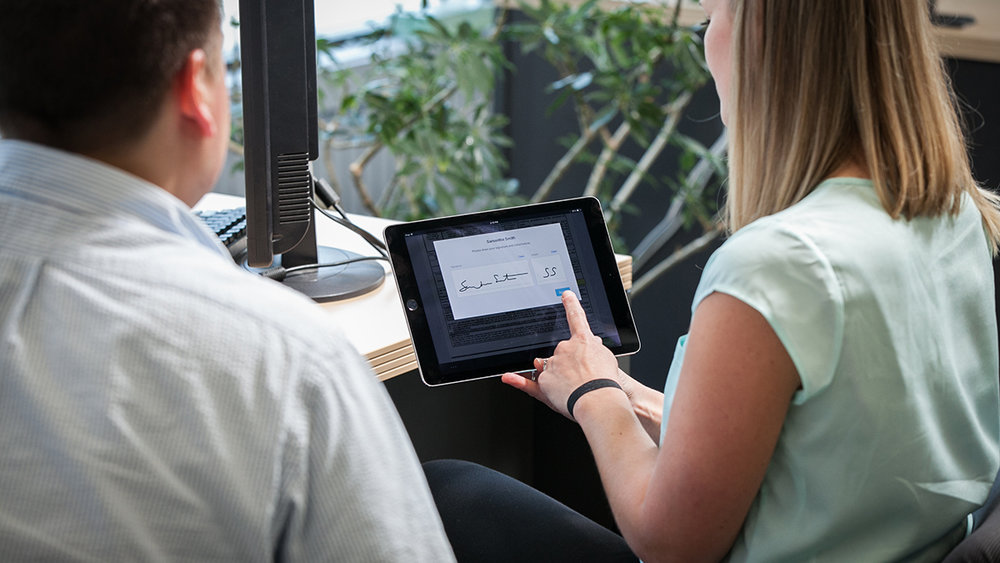 The Speed of Efficiency
Effective technology offers a simple answer to fundamental and head-scratching business challenges. All in, it comes down to finding more efficient ways to operate by helping to make the act of completing a task easier, faster and more accurate. Showroom and operational solutions can and do reduce errors, speed process and eliminate unnecessary costs; one only need look at the benefits that electronic contracting (to name just one) has brought to today's dealerships.
The difference today is that efficiencies brought by dealership technology are not "nice to haves" but required to keep customers happy and coming back. Indeed, most car buyers like the test drive experience – 79 percent gave it a high rating. But when the F&I process is factored in, that satisfaction score drops to 64 percent, per the Buyers Journey. As simple as it sounds, that unhappy decline in satisfaction is caused by…paperwork.
Paperwork?
That's right. Sixty-five percent of new and used car buyers felt that the paperwork process took too long to complete, and, when faced with hours of it, their happiness cratered and their satisfaction soured. Dealership personnel can solve that by simply leveraging technology, and other best practices, to reduce the time it takes to get through the process. That not only makes for a happy buyer, but also a happy business.