Expedite your payoff and title release process in as fast as 4-6 days, with an industry-exclusive
solution that saves you time and money, helping to speed inventory turn and improve cash flow on trade-ins.


See how in under 60 seconds
Speed
Accelerate payoff and title release in as fast as 4-6 days.
Profitability
Recognize your full profit opportunity by reducing holding costs.
Growth
Partner with a growing lender network, saving you time and money.
Faster payoff and title release. Streamline your process from weeks to days.
*Based on average industry timeframe for vehicle title release and vehicle payoff process of 18+ days, as determined by Dealertrack data.
Growth in lender adoption over five years.
*Based on Dealertrack internal data comparing lender subscriptions from 2015 through 2020.
Per day industry average holding costs dealers pay for each vehicle that sits on their lot.
*NCM Associates Group Study 2019
Nearly double your chances of selling a car on first pass at auction with a title in hand.
*2014 (2X) & 2018 (1.6X) Manheim Articles "Impact of Delayed Titles at Auction.
What Do You Stand to Gain?
The example below shows how much savings a dealership stands to gain, with all values set to the average dealer's experience.
Plug in your own numbers to find out how much your dealership could save.
NCM Associates 20 Group clients study 2013, Sept 2013 article: do-you-know-the-roi-on-each-used-vehicle-you-sell; and Manheim Online Dealer Community survey 2016.
Based on title turnaround time of 12 days minus the Accelerated Title turnaround time of 4 days (each is an average based on Dealertrack data).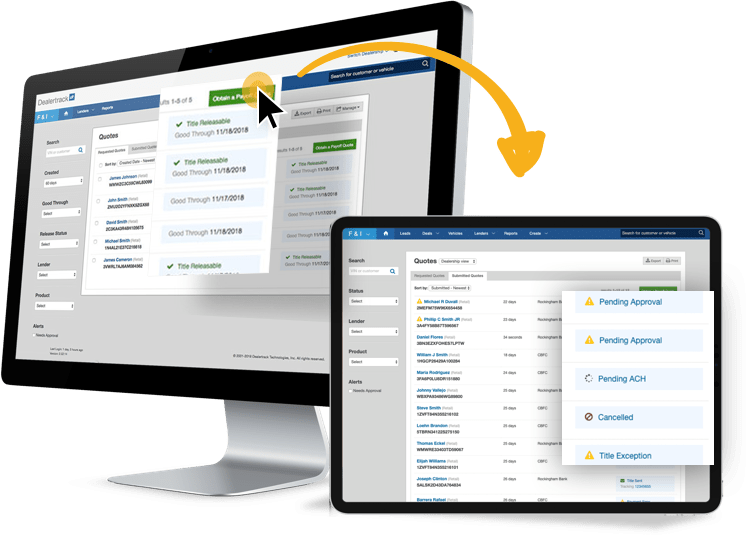 Talk to your rep about how faster title release on trades
with Accelerated Title helps keep your cash flow moving.
TAKE CHARGE OF THE WAY YOU TRANSACT >

Power your deals from F&I to Registration & Titling. See how at NADA 2022.
SAVE YOUR SPOT
Get Started with Dealertrack F&I
We know you may want to see a demo. Choose your preferred demo experience below:
Put yourself through an immersive demo experience of the Dealertrack F&I platform. Don't worry you can connect with your rep at any time.
Complete a short a form so your representative receives the necessary information.
Please complete this form and your F&I representative will contact you.