Would your dealership be ready for a compliance audit
today?
Dealertrack Compliance provides guidance throughout your F&I workflow to help you stay compliant with federal rules and regulations.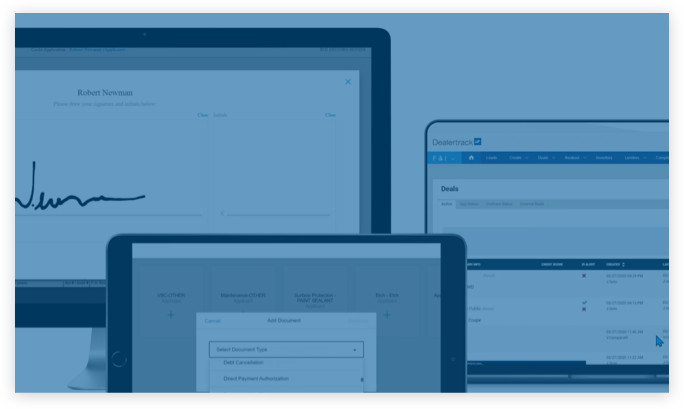 A compliance check at every step.
Dealertrack Compliance is integrated throughout the deal workflow, helping you safeguard your dealership.

Get Started

Do you really want to take the risk?
Dealerships need to stay focused on their
compliance obligations to avoid:
Stay alert for consumer fraud and utilize ID verification tools.
Be prepared to prove deal compliance and securely store deal documentation for mandated period.
Migitate the risk to your dealership's bottom line and reputation.
Are you exposing your dealership to fines?
Taking chances with regulatory non-compliance can expose your dealership to unnecessary risk and expense.
See the risk
Why use Dealertrack Compliance.
See why Dealertrack is the industry-leading F&I Compliance solution.
Compare compliance capabilities
Dealertrack Compliance
Other Compliance Solutions

End-to-end Workflow

Compliance is integrated throughout the entire deal in one online deal jacket.

Integrated Proactive Alerts

Live checkpoints throughout the deal guide you on what actions you need to take.

Verify

ID Verification Tools

Reduce compliance risk with Red Flags Alerts and OFAC checks.

No Transaction Fees

Out of Wallet Questions

Auto-generate authentication questions for additional ID verification.

Fraud Index

Indicates fraud risk level for each deal.

Protect

Adverse Action Manager

Print, track and manage all adverse action notifications.

Risk-Based Pricing & Privacy Disclosures

Automated disclosure alerts provided so you never miss a notice.

Compliance Checklist

Keep track of every action that needs to be completed.

Integrated in online jackets

Report & Store

Compliance Dashboard

A snapshot of the Compliance status for all your deals.

Dealer and Active User Reports

Gain detailed insights into the user's Compliance history.

Enterprise level included

Long-Term Storage

Securely stores up to 7 years of audit-ready customer data and deal documents

Up to 7 years

Follows minimum requirements
ID Verification Checks
Dealertrack Compliance has integrated checkpoints, including real-time Red Flag and OFAC alerts, to help you verify customer identity.
Proactive Alerts
Real-time proactive alerts help identify skipped actions and prompt you when disclosure notices should be provided.
Deal Checklist
Ensure deal compliance with an interactive checklist that guides you through actions you need to take.
Adverse Action Notices
Easily manage them in one location with a simple batch process or Dealertrack can mail them for you.*
*Additional fee for mailing service
Dashboard
Get a quick snapshot of your dealership's compliance status including a score to gauge performance.
Reporting
Audit your compliance with customized reports at the group level or by dealership.
Features