Dealertrack Site Requirements
Supported Browsers
Dealertrack supports Internet Explorer versions 9, 10, and 11, Chrome, and Firefox for computers running windows, as well as Safari and Chrome running on Apple Mac computers for dealertrack.com post-login access. Safari access through tablets and phones using iOS is not supported.

To check your Internet Explorer browser version, please take the following steps and reference the image below:


Open your Internet Explorer browser.
Click 'Help' on the browser's top navigate bar, then "About Internet Explorer."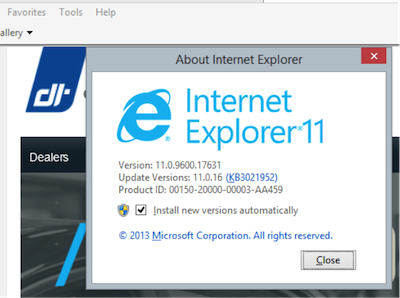 Click here to download Internet Explorer Version 11 from the Microsoft website.


eSigning Requirements

Digital Contracting on Dealertrack uniFI - For the optimal signing experience we recommend signing in through the Google Chrome browser and using the following certified devices:


Desktop devices (Windows, Mac)
Android tablet - Samsung Galaxy
iPad Air 2 & iPad Pro (12.9 inch0
Microsoft Surface
*Please note that other devices may be supported, but not certified. Tablets 9" and above only (ex. Android tablets).
eContracting on Dealertrack Classic - The Signature Pad function for eSigning is only supported by the Internet Explorer browser. If you need to use eSigning on Dealertrack Classic, Dealertrack.com must be accessed by Internet Explorer versions 9, 10, or 11.
Microsoft Windows Operating Systems
Dealertrack recommends using a PC with one of the following Microsoft Windows operating systems: Vista, Windows 7 and Windows 8.


Internet Explorer compatibility mode should be turned off so that dealertrack.com functions properly. Please follow these steps to ensure that Compatibility Mode is turned off on your computer for Dealertrack.com.


Open Internet Explorer and select the alt T key
Select the "Compatibility View Settings" option from the drop menu
A box will appear that with a section titled, "Websites you've added to Compatibility View"
If dealertrack.com appears in this box, select dealertrack.com in this box so that it is highlighted and select the remove button. This step will turn off compatibility mode for your computer, and you can now close this box
If dealertrack.com does not appear in this box, then compatibility mode is not set for dealertrack.com and Internet Explorer is configured properly for your computer
Please note, Dealertrack.com will detect the operating system and browser combination and will not allow login access for unsupported browsers (e.g. Safari) and operating systems (e.g. Mac OS, Linux, iOS, Android.) Dealertrack does provide access to specific features through iOS and Google Play apps. Please visit the app stores to download the appropriate mobile app.

Cookie Technology
We collect anonymous traffic data on our site through the use of cookies, a small file containing a string of characters that uniquely identifies your browser. When you visit our site, we set one or more cookies in your browser. We use cookies to improve the quality of our service, including for storing user preferences, tracking site visits, and providing information to you while on our site. The Help feature on most Internet browsers will tell you how to prevent your browser from accepting new cookies, how to have the browser notify you when you receive a new cookie, or how to disable cookies altogether. If you set your browser to decline cookies, you may not be able to get the benefit of the features of this website or other websites that you visit.

JavaScript
You must have a JavaScript-enabled browser to use Dealertrack.


Recommended Plug-Ins
Several documents and forms are available in PDF format. To view these, you must install the Adobe Acrobat Reader version 7.0 or higher.

Recommended Monitor Resolution
The recommended browser resolution for viewing the Dealertrack web site is either 800x600 or 1024x768. To check your monitor resolution, please go to your computer's control panel. Choose Display and then Settings.

Recommended Font Size
The recommended font size for viewing the Dealertrack web site is small. To check your font size, please go to your computer's control panel. Choose Display and then Settings.

Automated Password Reset Feature
If you have difficulty with your password or if you have forgotten your password, you can instantly reset it using this "Forgot your ID or password?" link.


The Dealertrack.com self-service password reset function requires that your Dealertrack account has your mobile number and unique email address on file. Just follow this easy 3-step process after you have logged into your Dealertrack.com account:


Click on the Admin link located in the upper right
Select the Change Password/Account Recovery Options item
Enter/update your text-enabled mobile phone number and unique email address. Dealertrack will not use your mobile number for any reason other than to support the automated password reset function