One hundred years in the making, this year's "NADA 100" convention served as a perfectly-timed and appropriate gateway to the connected and digital future of auto retailing.
On the floor and throughout the keynotes, there was a feeling of measured optimism. At the opening press briefing, Steven Szakaly, chief economist of the National Automobile Dealers Association (NADA), reported a baseline forecast of 17.1 million units, "a slight decline of about 350,000 units, but still a very, very strong year." Talk throughout the show was about adjusting to the chance of increased automaker incentives, and the impact those incentives may have on the used vehicle market – especially prime off-lease shoppers. According to Cox Automotive Insights, used sales increased three percent in 2016, with sales "projected to remain very strong in 2017 as wholesale supplies are expected to rise due to an influx in off-lease volumes entering the market."
In other words – another year in the life of the automotive business. Come to think of it, that's what this amazing show has always been about: possibilities. Over the weekend, that played out countless times at demo booths and partner meetings, where the discussion seemed to be less about a slowdown in sales and more about the possibilities of gearing up and getting ready for the next phase of changes.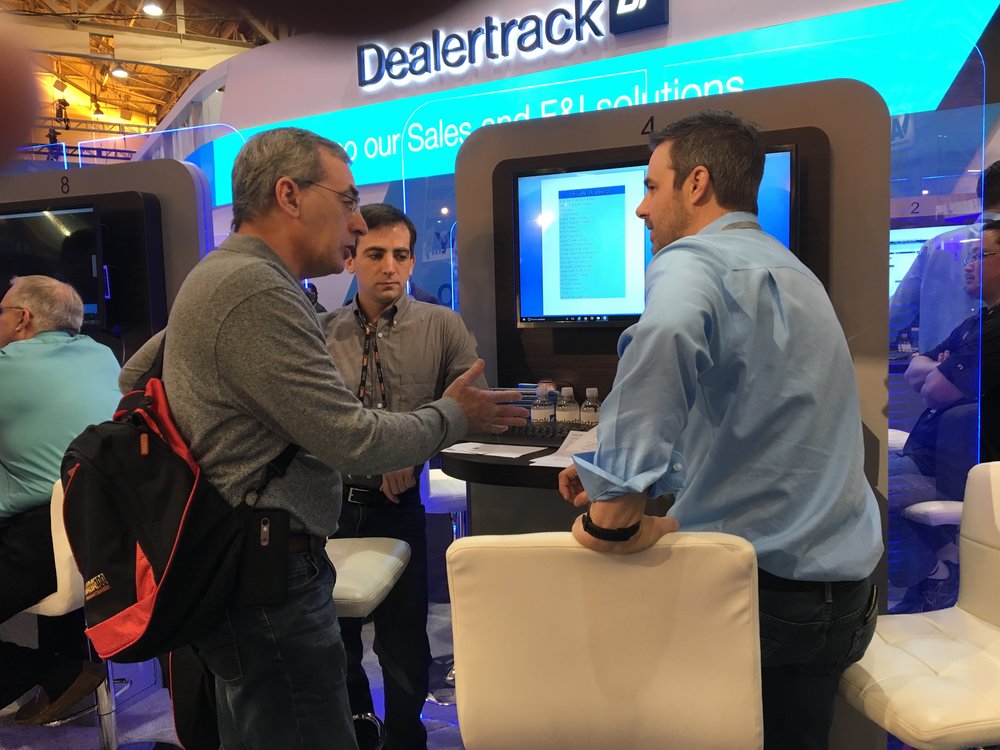 Possibilities. There's that word again. We saw it all weekend at the Dealertrack booth, whether the solution helped a sales team, improved business office efficiencies, or streamlined F&I product sales. Questions ran the gamut from eliminating data errors to optimizing the time spent with customers, all with the same basic goal: evolve sales operations toward a connected reality that over-delivers on customer expectations and streamlines process into a tight, productive workflow. It was an optimistic show with all eyes on change that revolved around three key topics:
1. Mobility
According to Cox Automotive's recently released 2017 Car Buyer Journey report, 53 percent of shoppers use multiple devices while shopping for a car, and 18 percent used only mobile devices. That's up from last year's 46 percent and 14 percent, respectively, and clearly shows the changing preferences of in-market shoppers. The lesson for dealerships: The days of bland, fern-laden cubicles are disappearing, and fast. Today, customers want the mobile experience to continue inside the showroom. This realization powered interest in the Dealertrack eMenu for iPad solution, and its ability to leverage mobile technology to create a consultative and connected sales conversation – anywhere in the showroom. The ability to sit down with a customer where they're most comfortable and share a tablet tuned to their specific purchase is a seismic shift in the way F&I product sales have traditionally been handled.
Missed Your Chance at NADA? Sign up to Demo eMenu for iPad.
2. Connectivity
Streamlining key connections throughout the entire purchase journey is all-important, including (and especially) during the showroom experience. For example, the Car Buyer Journey study found that the average car buyer spends 60 percent of their total purchase process online – and that only 32 percent of consumers know the exact vehicle they want when starting to shop. When they get to the dealership, 55 percent only test drive the vehicle they purchase. That reveals the importance of connectivity, and how critical it is that the online to in-store experience is fused throughout showroom operations. The challenge? During NADA, dealer managers spoke about technology confusion, of scattered and confusing technology. This need drove great interest in the Dealertrack DMS Performance Management and Business Intelligence solution, because it provides dealers with an industry expert to help analyze insights and strategically apply technology to create a competitive advantage.
Missed Your Chance at NADA? Sign up to Demo DMS.
3. Efficiency
All in, technology comes down to finding more efficient ways to operate. Effective technology offers sustainable answers to fundamental retail challenges; it exposes areas of improvement that create competitive advantages. Based on findings from Cox Automotive Insights, one such opportunity lies in the negotiation and paperwork part of the deal. The report found that consumers spend over 90 minutes negotiating and signing paperwork. Their feedback? Reduce the time by 38 minutes. As such, managers visiting the Dealertrack booth were interested in making those all-important improvements, and spent time demonstrating solutions like eContracting and Accelerated Title, because they provide tangible savings in time and cost. eContracting cuts interest expenses and improves cash flow, while ensuring contract accuracy. Accelerated Title helps dealers speed the remarketing of trade-ins; instead of sitting for weeks due to payoff and title processing, the Accelerated Title workflow reduces time by up to 70%, to as little as 4-6 days.*
Missed Your Chance at NADA? Sign up to Demo Accelerated Title or eContracting.
*Based on average industry timeframe for vehicle title release and vehicle payoff process of 18+ days, as determined by Dealertrack data.