Navigate your payoff process with ease, while quickly moving your customers through the trade-in process on new applications,
as well as gain access to insights into title details, reliable payoff amounts, and a more streamlined payoff and title release process.
Improve Workflows
Gain the ability to partner with a growing network of lenders to obtain and speed your payoff and title release process. Save payoff quotes in the system after you pull them, and gain 24/7 access to key details around each quote, updated in real-time.
Gain Insights
Access your quotes time and again with key quote details conveniently displayed on one screen, as well as view full title details ahead of time to safeguard against payoff surprises on trades.
Increase Accuracy
Access accurate payoff amounts specific to a date of your choosing, and 24/7 tracking and reporting updated in real-time.
Dealertrack
Accelerated Title®
Increase your confidence when taking in vehicles on trade.
Keep your trade-in deals moving and cash flowing with an improved process that helps you overcome delays in title receipt, avoid incorrect payoffs, speed inventory turn on your lot and at auction, and access real-time status tracking and reporting.
Faster payoff and title release. Streamline your process from weeks to days.
*Based on average industry timeframe for vehicle title release and vehicle payoff process of 18+ days, as determined by Dealertrack data.
Growth in lender adoption over five years.
*Based on Dealertrack internal data comparing lender subscriptions from 2015 through 2020.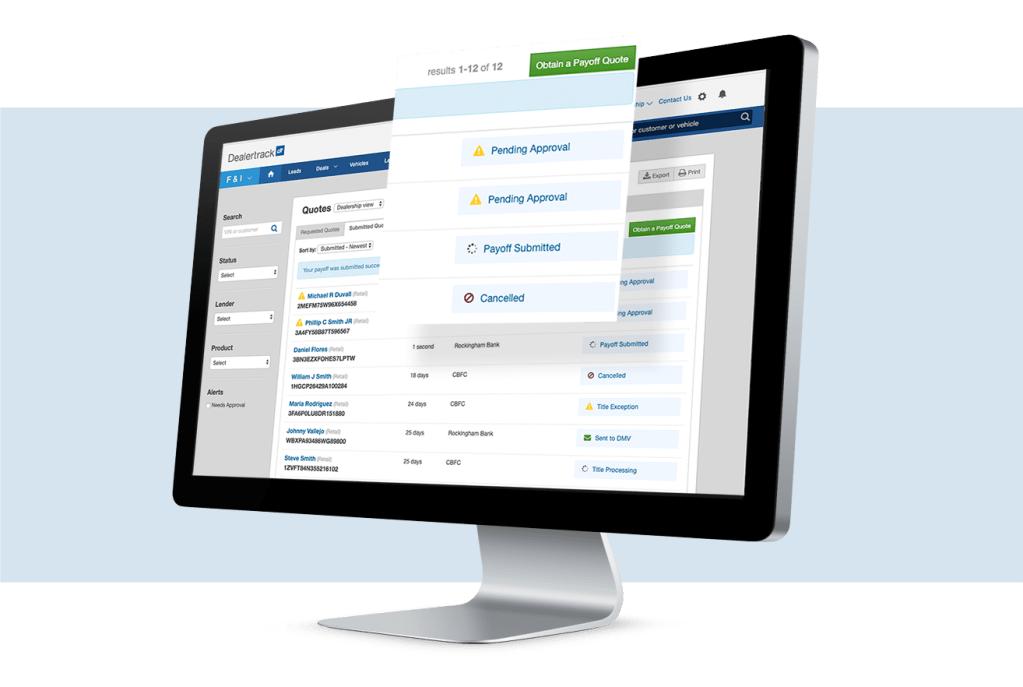 PAYOFF QUOTES
Quickly move customers through the trade-in process when working on a new application.
With Dealertrack uniFI® , it's simpler than ever to obtain a payoff quote on your trade-in vehicles, and gain lender responses in real-time. All payoff quotes are now saved in the system after you pull them, with 24/7 access to key details around each quote, conveniently displayed for you on one screen, reducing the need for status update calls or having to re-pull quotes.
What Do You Stand to Gain?
The example below shows how much savings a dealership stands to gain, with all values set to the average dealer's experience.
Plug in your own numbers to find out how much your dealership could save.
NCM Associates 20 Group clients study 2013, Sept 2013 article: do-you-know-the-roi-on-each-used-vehicle-you-sell; and Manheim Online Dealer Community survey 2016.
Based on title turnaround time of 12 days minus the Accelerated Title turnaround time of 4 days (each is an average based on Dealertrack data).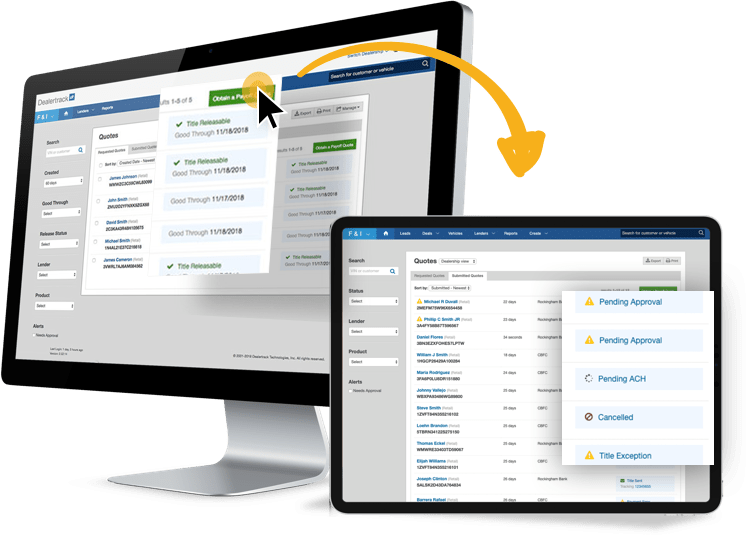 GET STARTED WITH ACCELERATED TITLE
Talk to your rep about how faster title release on trades with Accelerated Title helps keep your cash flow moving.
TAKE CHARGE OF THE WAY YOU TRANSACT >
Power your deals from F&I to Registration & Titling. See how at NADA 2022.
SAVE YOUR SPOT
Please complete this form and your F&I representative will contact you.