How Deal Status Queue helps you keep tabs on deals
Deal Status Queue allows you to organize your transactions so they can be found quickly as well as give high-level information without having to open up the details of each deal.
Follow these steps to see how.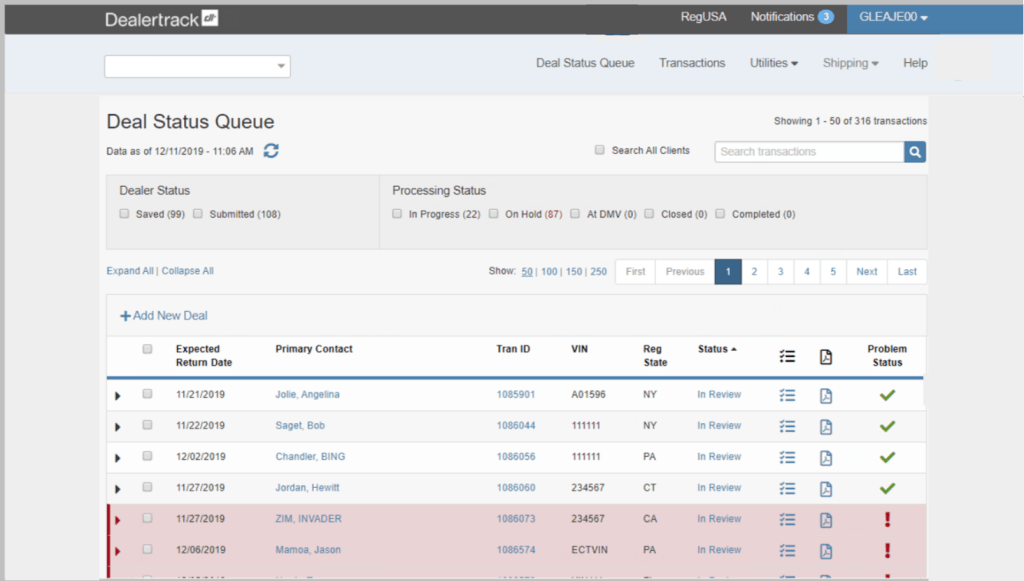 Finding deals in your dealership or across all your dealership clients is easy when using the Search function to search by:

Primary contact First or Last name
VIN
Tran ID
Registration State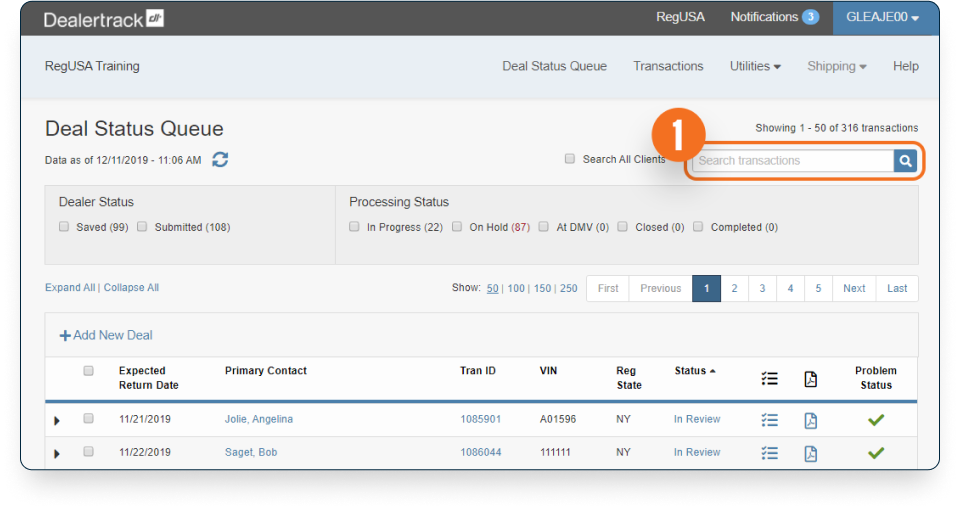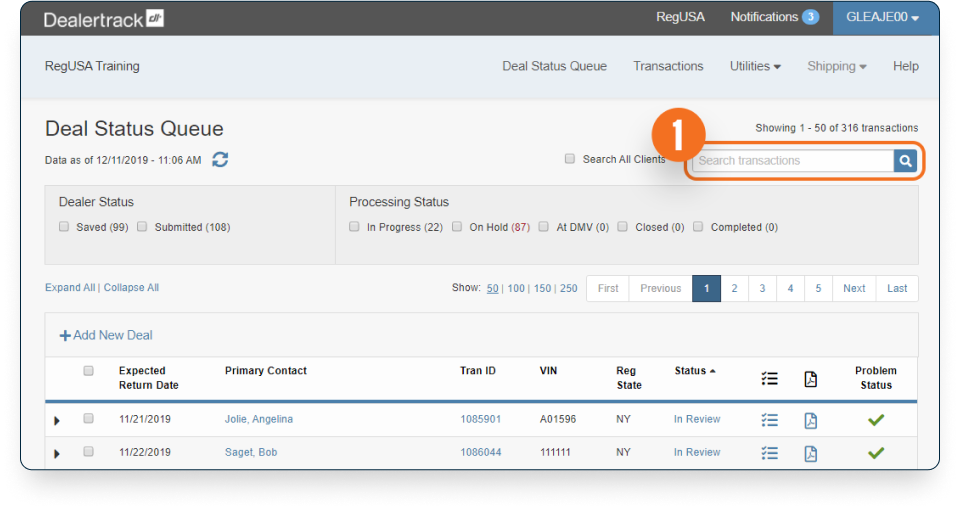 Check the Dealer Status and or Processing Status in the Dealer Status Queue to filter your deals. The number of deals in each category are displayed to the right.
You can also filter Status within the deal Status column. All columns in the Dealer Status Queue can also be sorted.

Dealer Status – Filter for a quick and helpful view of which deals have been saved and submitted.
Processing Status – View all deals in a particular status such as in process, on hold, at DMV, or complete to help you address deals in need of attention category by category as well as those recently complete.
Within Deal Column – Filter by Status and sort by any of the other columns such as Primary Contact, Tran ID or Reg State to find specific deal details, history, andor checklists.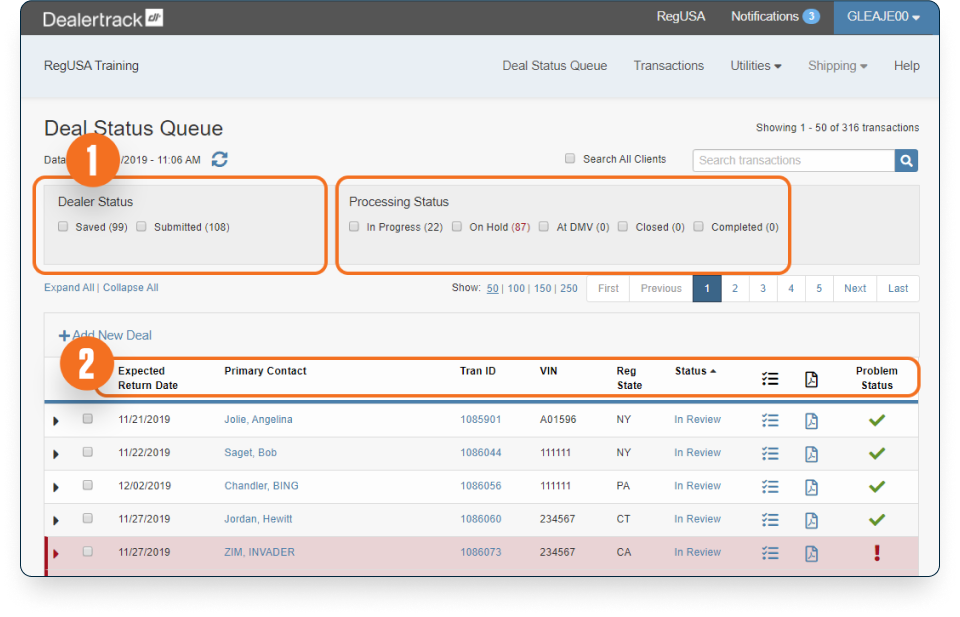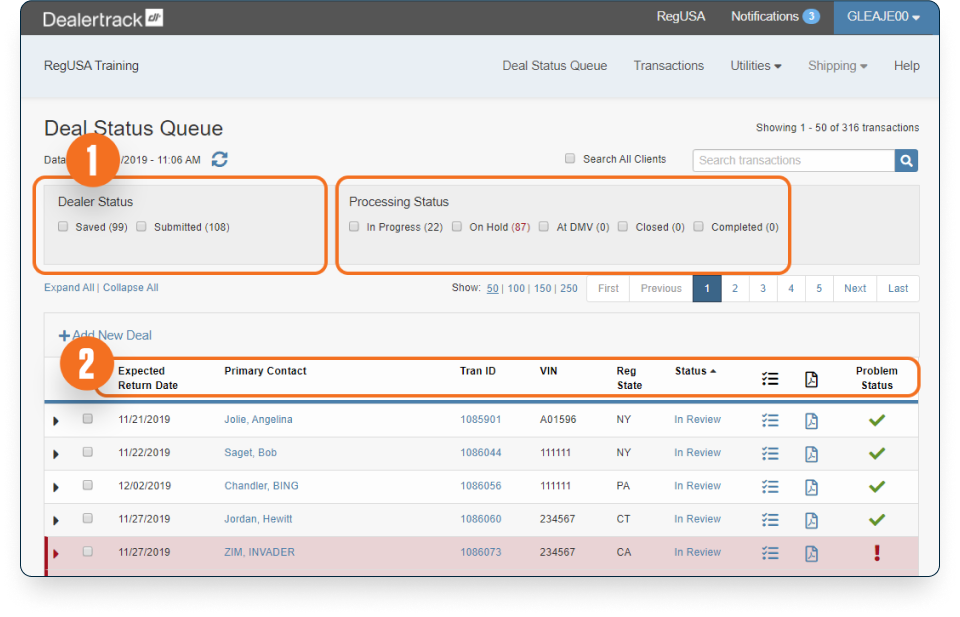 Deal status defined:

A quick reference to deal status meanings:
Saved: Transactions that have been saved but not submitted to RegUSA.
Submitted: Transaction has been electronically submitted and the RegUSA Service Team is awaiting receipt of paperwork.
In-Progress: Your submission has been received (both electronic and via mail) and it is in the queue to review.
At DMV: All the registration paperwork has been received and been submitted to the DMV for processing.
On-hold: Registration is on-hold and requires attention from the dealership. It could be on hold for the following reasons: On Hold, DMV Hold, DMV Rejected, Payment Issue, or Cancellation Pending.
Closed: Deal was returned incomplete or cancelled.
Complete: Deal has been registered successfully and processed at the state DMV.
Download the Deal Status Guide: