HOW TO SET UP YOUR


CONTRACTING PREFERENCES
You no longer need to manually add
Charge Type
and
Paid to
for Digital Contracting taxes, fees and aftermarket. These can now be pre-set and will automatically apply to all new deals across the dealership*.
Your Dealership's system administrator or Dealer Information Owner (DIO) can set the default values:
Save time on every deal deal across your Dealership by reducing manual data entry
Paid to will appear for taxes and fees in all states
Charge type will be set, if the state leverages this field for taxes, fees and aftermarket products
*Please note: Default values, once set, can still be edited by a user for an individual deal directly from the Digital Contracting Finance page.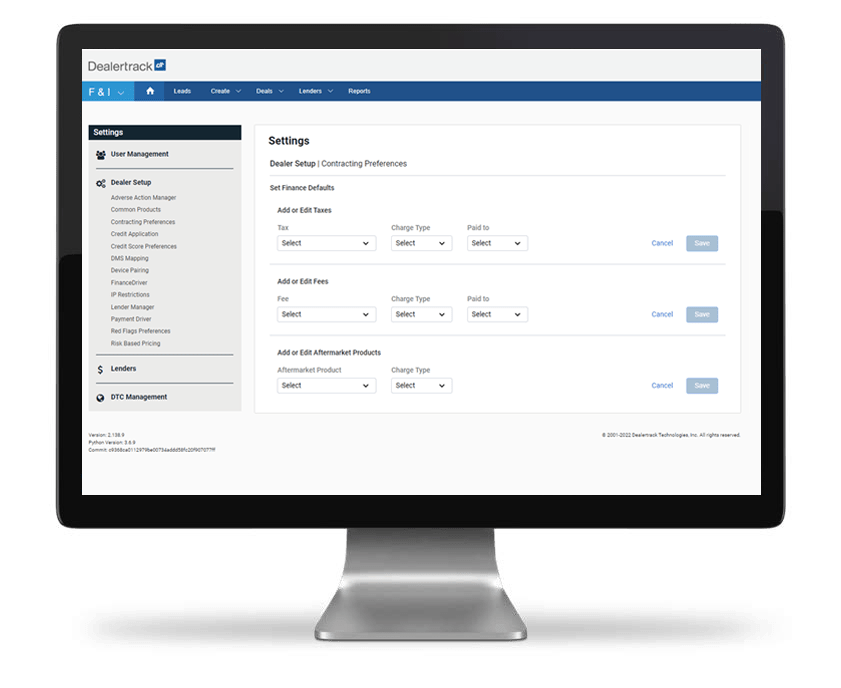 HOW CONTRACTING PREFERENCES WORKS:
Click the gear icon for Settings. Under Dealer Setup, click Contracting Preferences.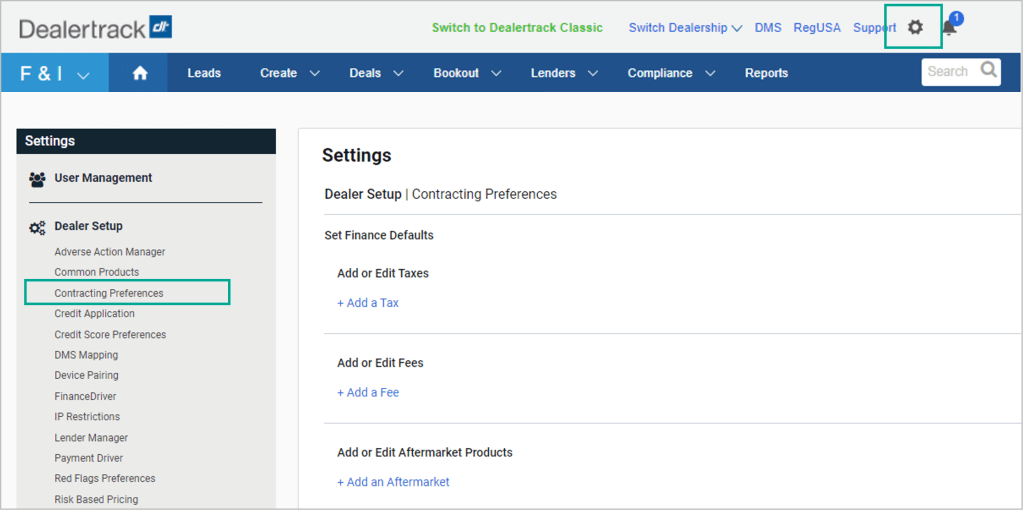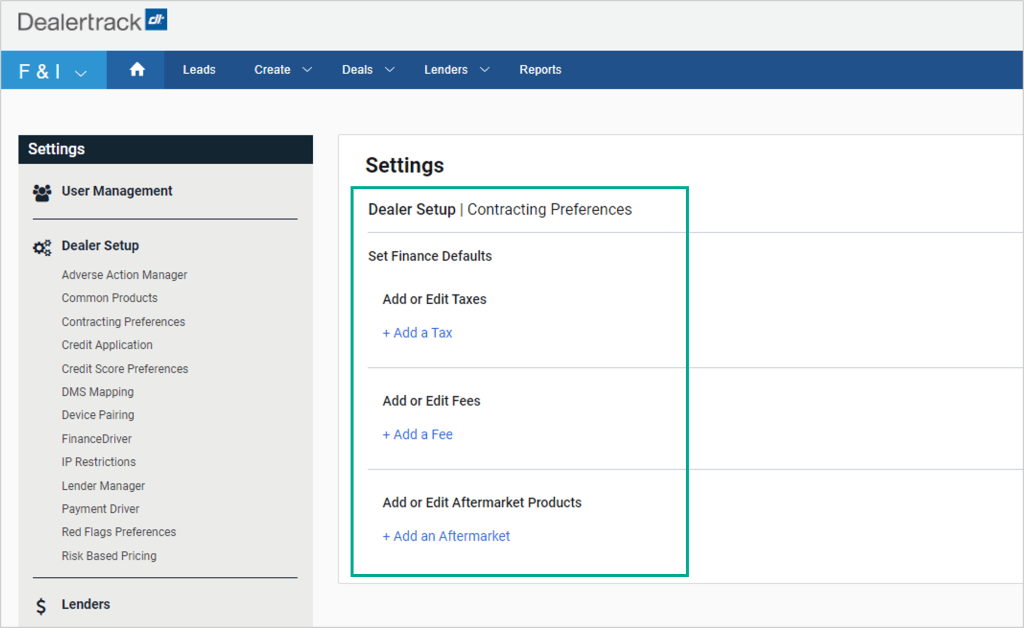 From the
Set Finance Defaults
click on the links:
Add or Edit Taxes
Add or Edit Fees
Add or Edit Aftermarket Products
Note: Aftermarket will only appear for states with Charge Type.
The screen will update so you can Select and enter the Tax, set the Charge Type and Paid to as a default for your deals.

Click Save button as each addition is completed.

Your saved values will automatically be pulled into the Digital Contracting Finance page

Note: Charge type will not appear if state does not support it.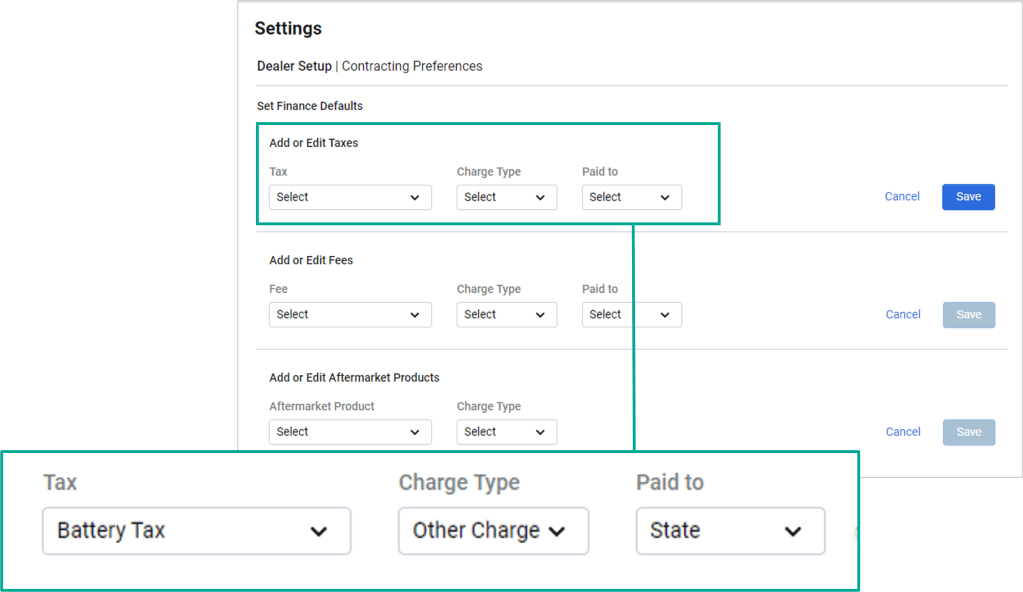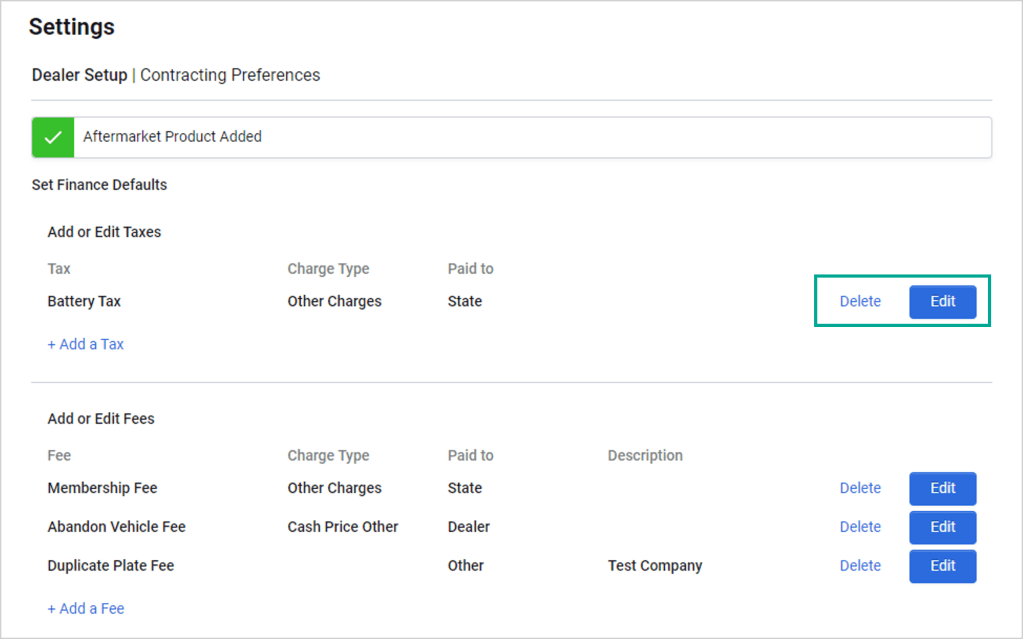 Click on the Edit or Delete buttons to make any changes.
When you Delete a pre-set value, you will need to confirm deletion in the pop-up window
You will see a Fee Deleted message on the screen.
You must be subscribed to Digital Contracting on Dealertrack uniFI®
and complete the opt-in form to begin using assisted Remote Signing.
Select the option that applies to you:
I HAVE DIGITAL CONTRACTING
I would like to opt in for assisted Remote Signing.*
I WANT DIGITAL CONTRACTING
I would like to learn more about Digital Contracting with assisted Remote Signing.*
DIGITAL CONTRACTING ON DEALERTRACK UNIFI® WITH ASSISTED REMOTE SIGNING
Please complete the form below to connect with your F&I specialist.