How
Customer Checklists

help you get more and keep deals moving
Deal-Specific Checklists shows you exactly what's needed based on the registration address, transaction type and sales type.
Follow these steps to see how.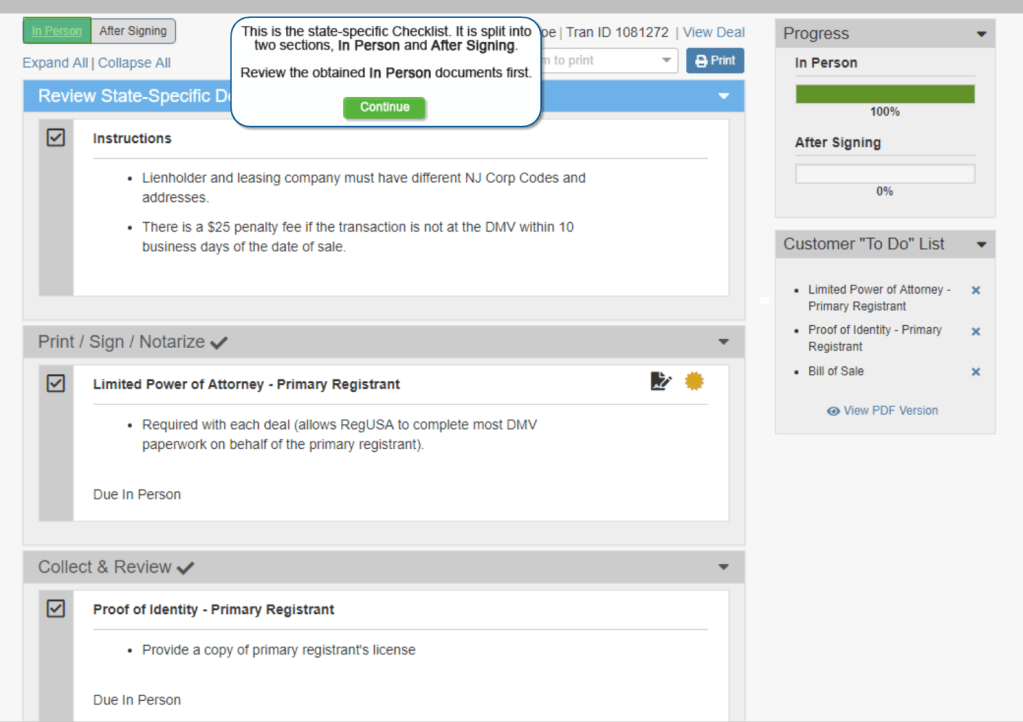 This is what the customer needs to review and authorize to jump start the transaction processing to comply with state-specific requirements:
Review State-specific Details – State-specific instructions are printed for the customer to review before signature authorization.
Print, Sign, and Notarize – The Limited Power of Attorney (POA) must be printed, signed and notarized prior to including in the deal packet. The RegUSA processing service team will utilize the POA and ensure required forms are completed and signed accurately.​
Collect and Review – Some items on the checklist must be requested from the customer and reviewed to ensure state-specific registration compliance.​
Provide Customer To-Do List – Additional requirements which require customer follow-up are provided in the form of a printed checklist for their convenience.​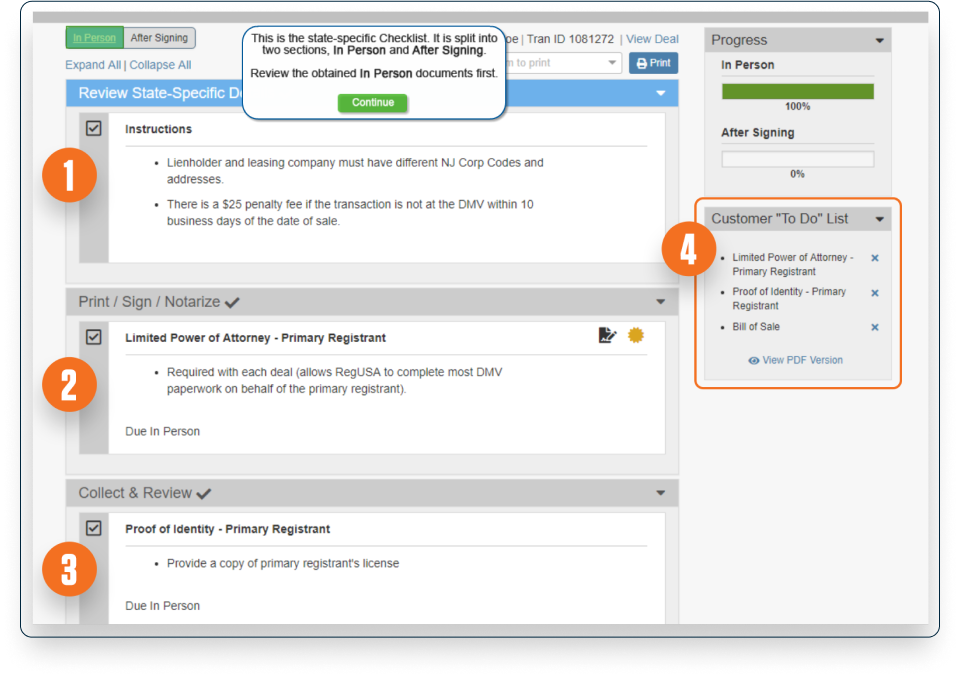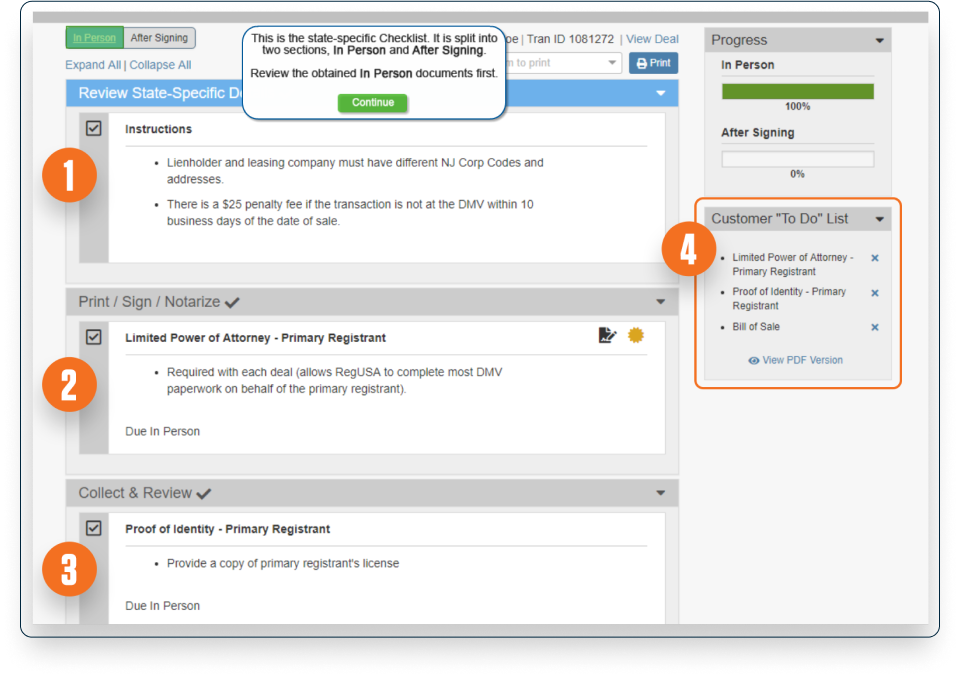 This is the needed documentation for the dealership to collect that is state-specific. Some items may be required to gather after signing the POA for processing and delivered for transaction submission. These are state-specific and based on the folllowing:

Customer registration address​
Registration transaction type ​
Sales transaction type

The After Signing checklist ensures all final stage forms and documentation outlined on the Customer To-Do List are completed for each deal. Once all items on the checklist are obtained, check off each box for In Person and After Signing, until each progress bar shows 100%.​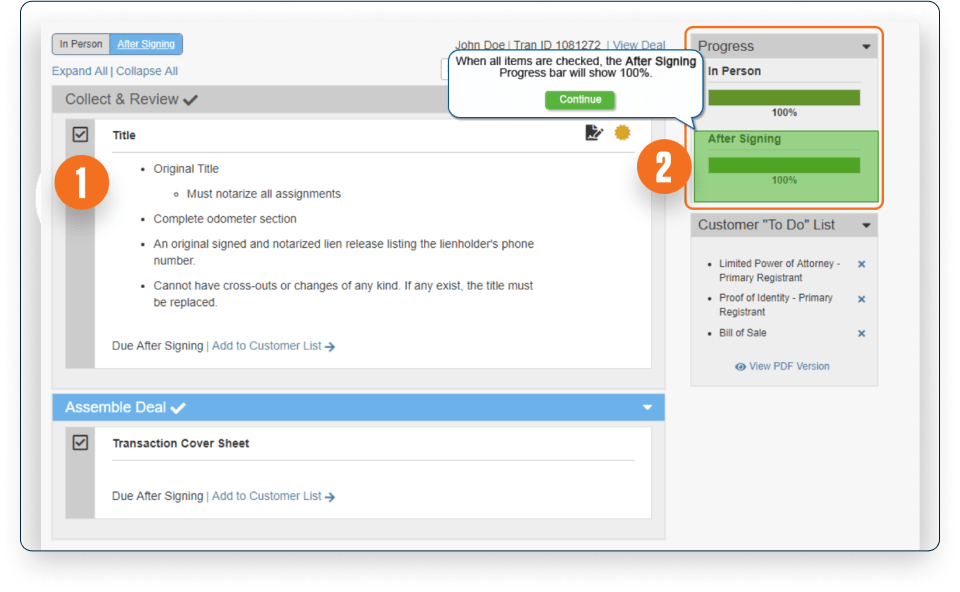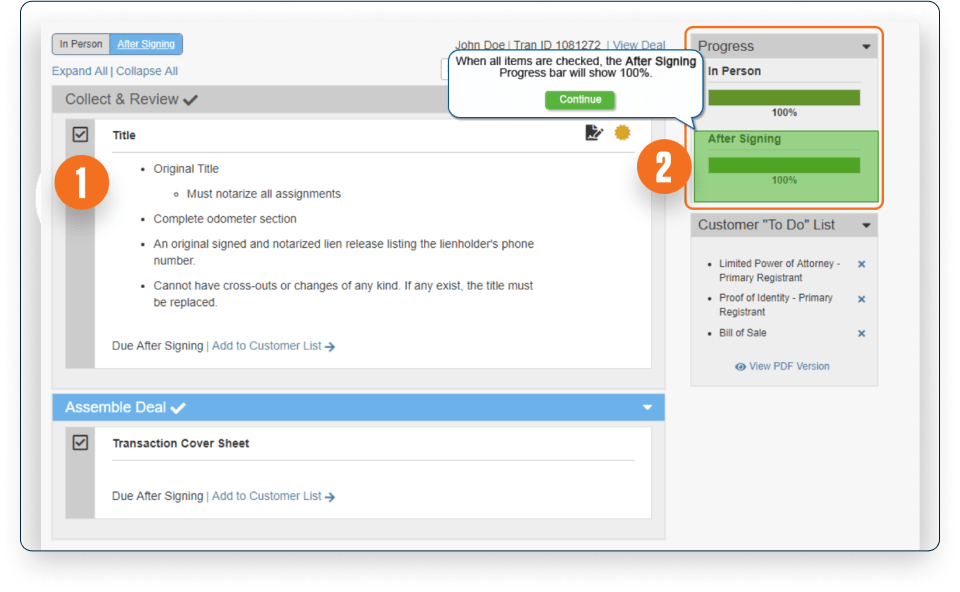 How to create the Customer To-Do List​
An accurate customer-specific checklist of items to gather and submit minimizes process break points for the deal transaction.
Reduce and or eliminate follow-up phone calls or emails in the process and aggravating return visits for the customer to the dealership prior to delivery by issuing a customer-specific to-do list in the dealership.
To create a
Customer To-Do List
, complete the following steps:
Find the appropriate section(s) and select Add To Customer List. Once added, the link to add to the list will disappear. Continue adding to the list as needed.
Once all the selected items have been added, select View PDF Version.
Once the PDF opens, a copy can be printed for the customer.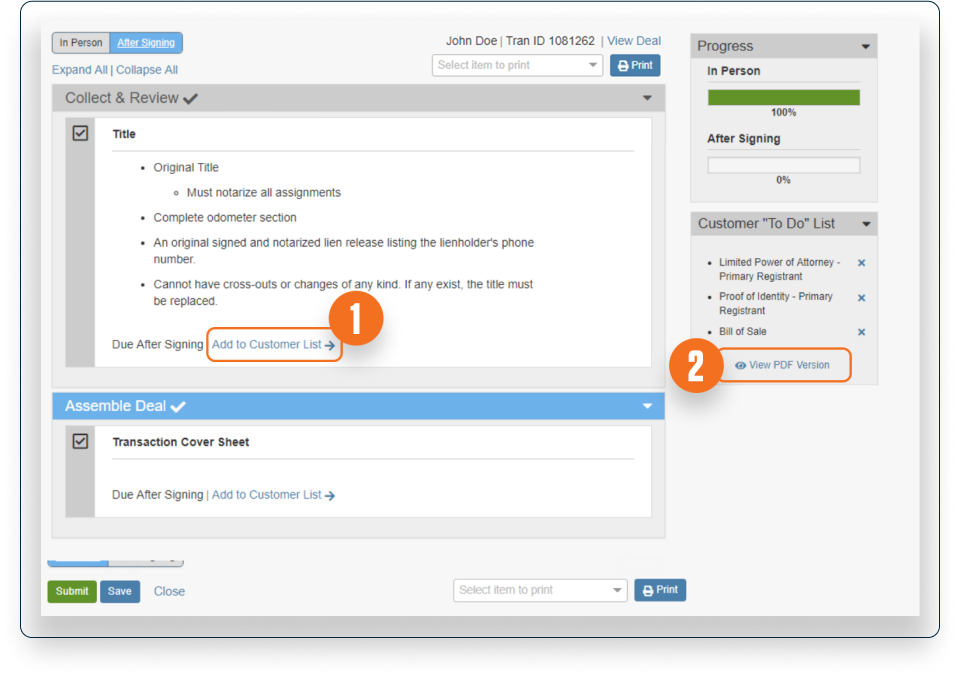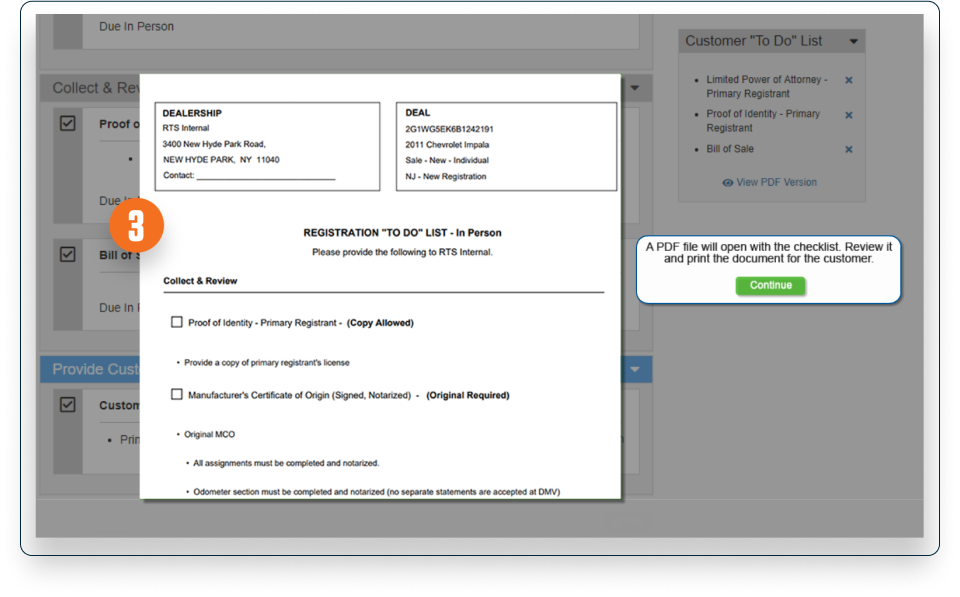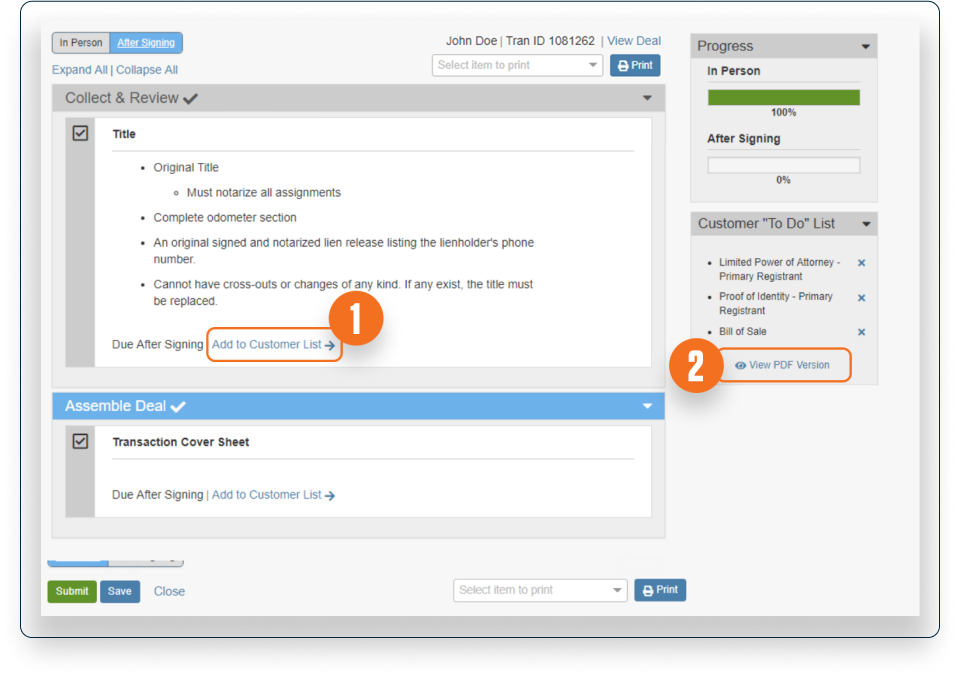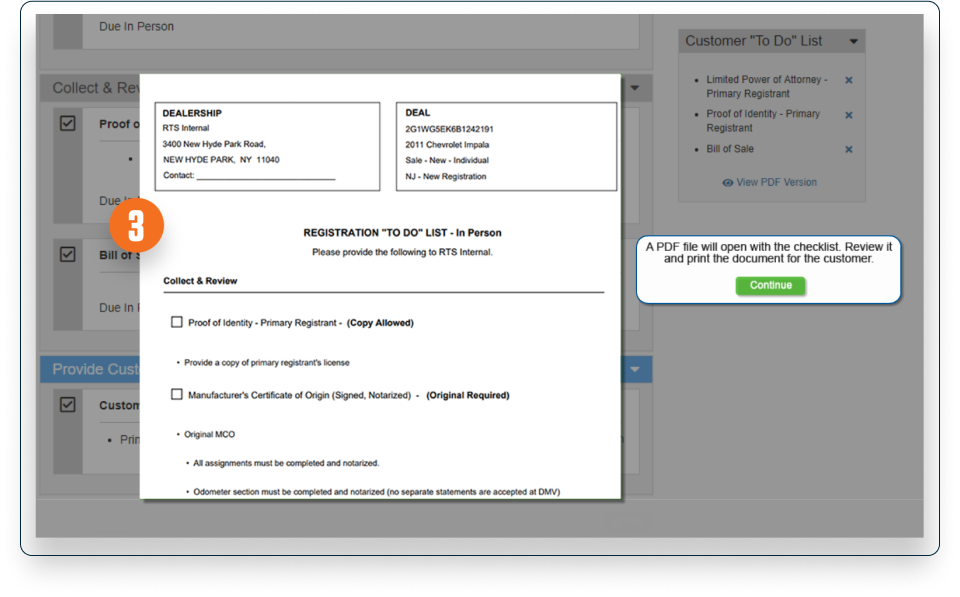 Download the Customer Checklist Guide: