Straub Automotive Group
Dealertrack technology just makes everything so simple. We're trying to stay ahead of the curve, and Dealertrack is helping us do that.
- Kevin Cook
General Manager, Straub Automotive
Why they chose Dealertrack
Straub Automotive was searching for a solution that would create an integrated aftermarket selling experience. There previous process was disconnected and not integrated which led to more manual work.

Time kills deals. We wanted a more seamless process that would enhance our customer experience.

- Kevin Cook
General Manager, Straub Automotive
Improved Experience
Straub found that eMenu for iPad® allowed customers to avoid high pressure sales tactics, empowering their customers to make better decisions and improving their overall experience.
Proven performance
By using eMenu for iPad® in every customer interaction, Straub sees measurable results. Up to 60% product penetration - on GAP insurance and appearance protections packages* $150 additional F&I profit per deal.* *September 2015 - October 2016 averages
Extra Compliance Coverage
Straub uses eMenu for iPad® 100% of the time, no exceptions. Customers are exposed to every product, increasing F&I product penetration and upsell opportunities. eMenu for iPad records electronic signatures for a flawless audit trail.
You may also be interested in...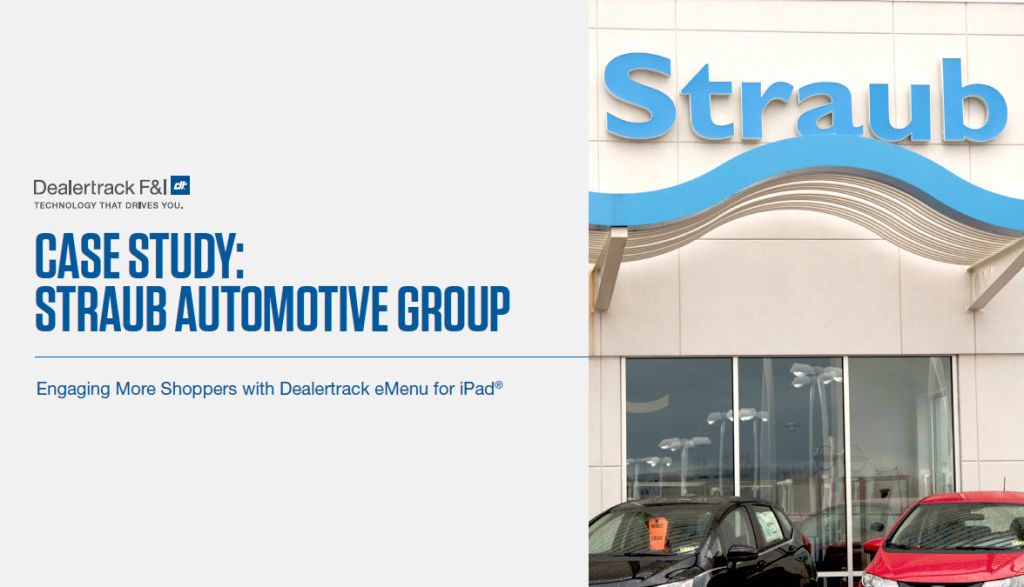 Engaging More Shoppers with Dealertrack eMenu for iPad.
Download eBook