GET THE MOST OUT OF ACCELERATED TITLE
Help ensure cash flow with a digital system that makes the payoff process more efficient and speeds title release to support faster inventory turn.
How does the manual payoff process compare?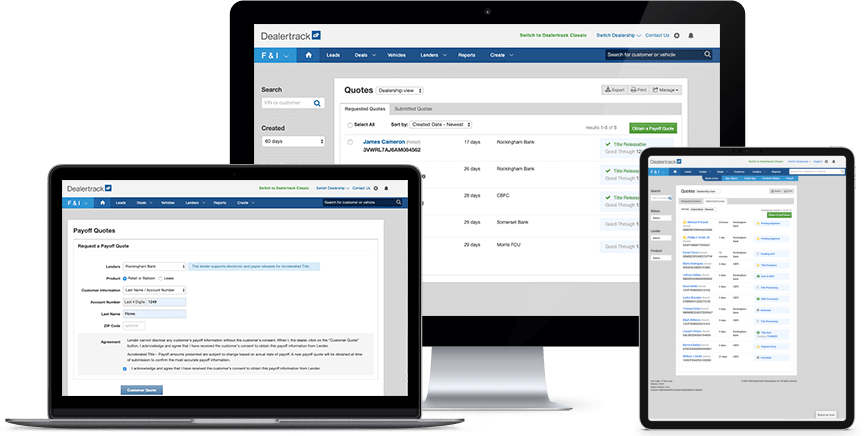 KEEP SCROLLING TO FIND OUT HOW​
HOW TO USE ACCELERATED TITLE IN THREE SIMPLE STEPS:
Log into dealertrack.com, and click the Lender tab.
Select the green Obtain a Payoff Quote button to speed payoff and title release by up to 70%.*
Choose one of the 120+ lenders you'd like to partner with to streamline your trade-in process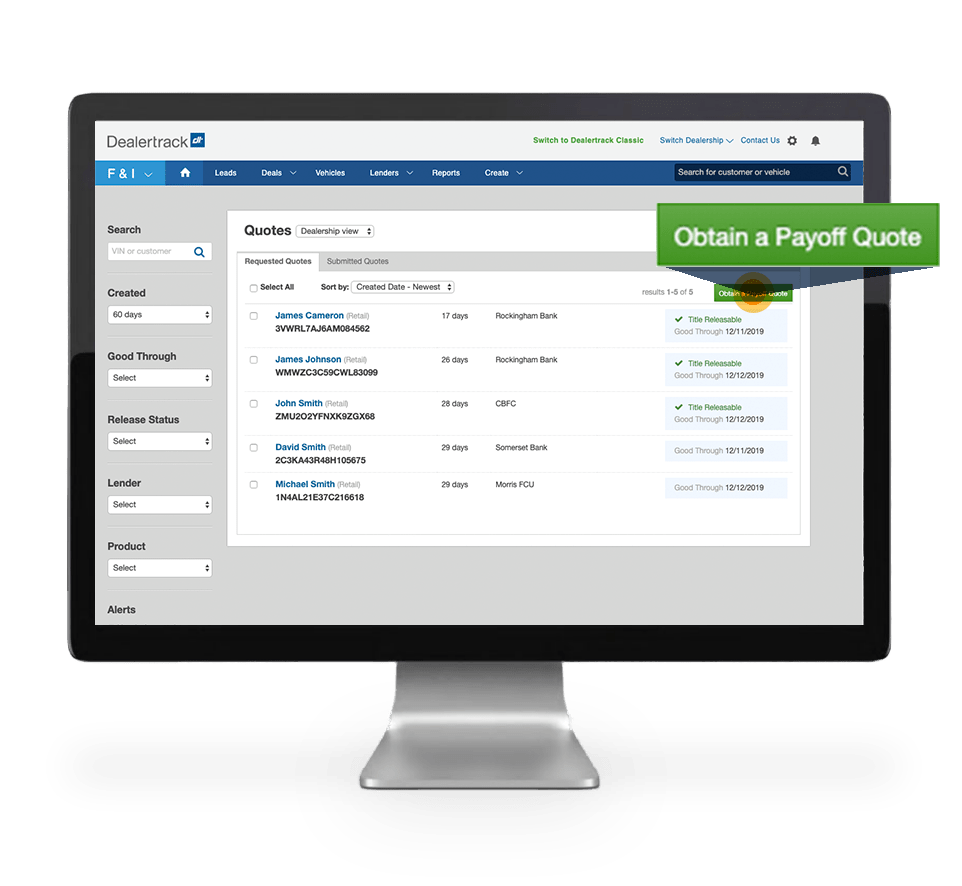 View full title details ahead of finalizing the trade to avoid payoff surprises
Calculate accurate payoff amounts specific to lender and date in real time without having to make phone calls or estimations.
Click the Payoff button to proceed.


Note: the "Payoff" button is available only to those selected by the dealership's Admin.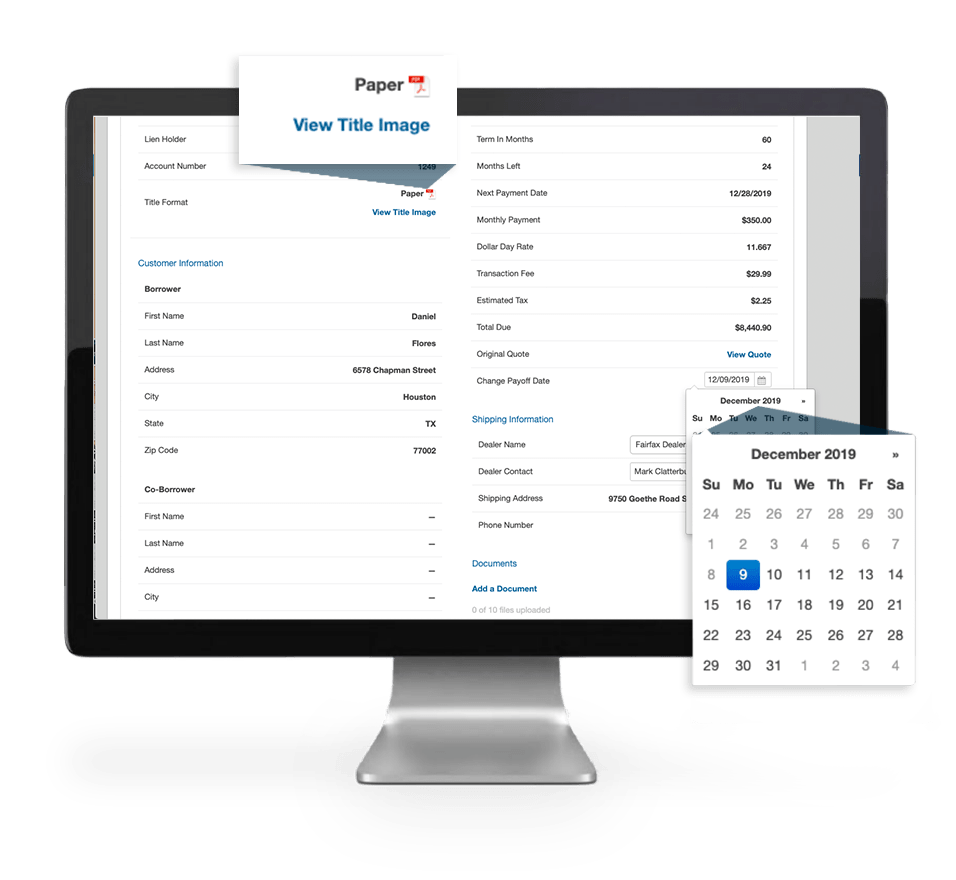 The title is released to the dealer the same day the lender receives the funds.
Avoid time-consuming phone calls with 24/7 tracking and reporting features.
Faster title release enables faster inventory turn, reducing holding costs and helping ensure cash flow off your lot or at auction.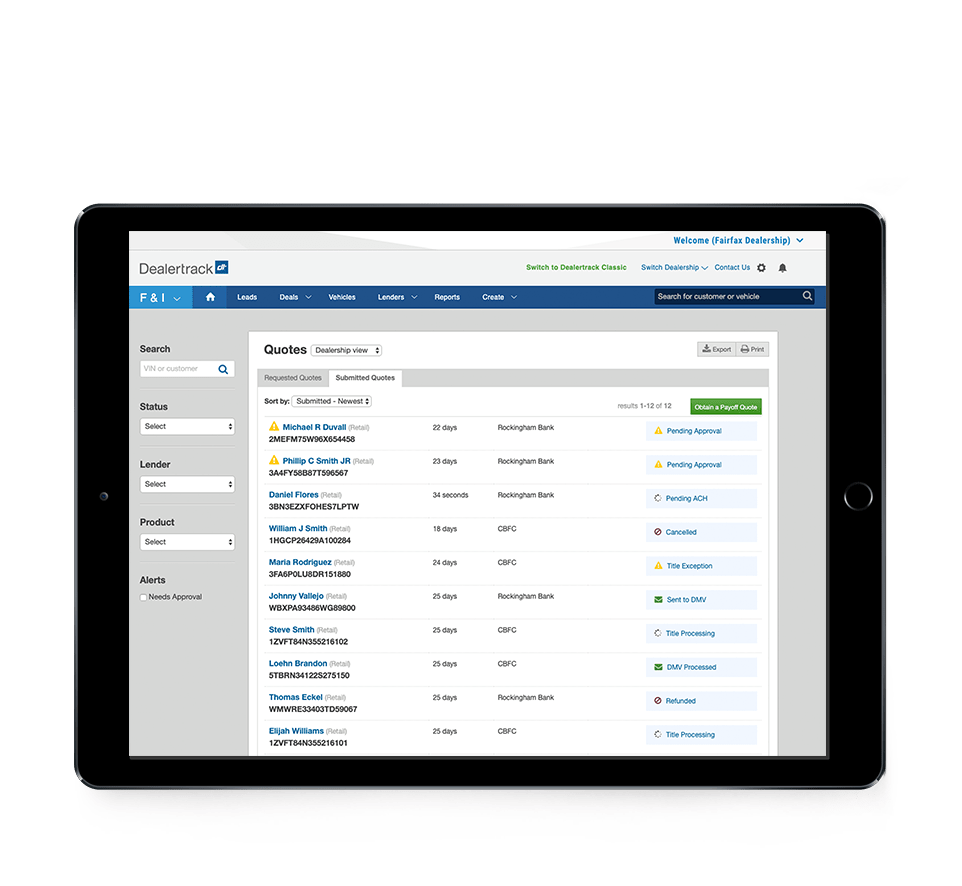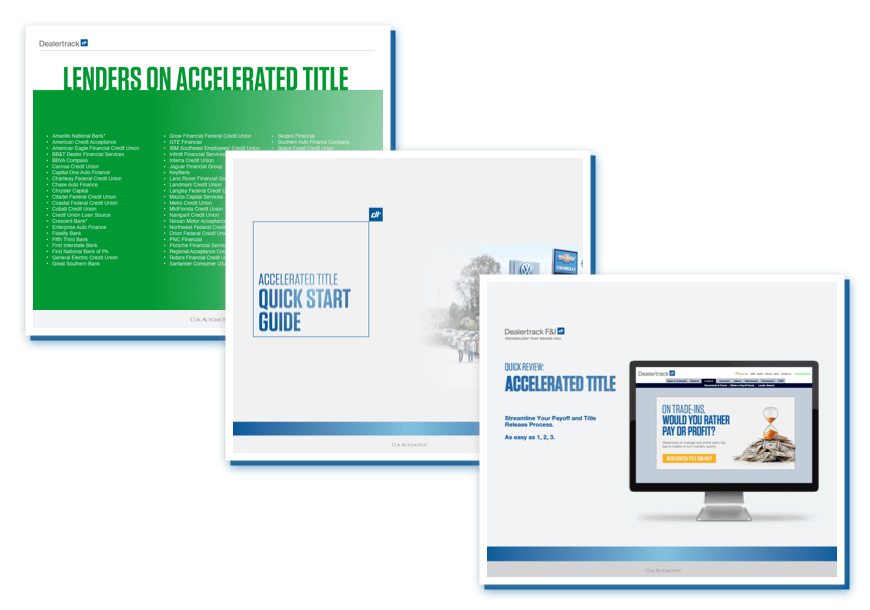 ACCELERATED TITLE QUICK REFERENCE GUIDES
Download the simple 1-2-3 Guide or the Quick Start Guide which breaks down the transaction process into 5 fast and easy steps. Share with your staff and make Accelerated Title part of optimizing your business processes.
ACCESS A GROWING NETWORK OF LENDERS
Partner with 120+ lenders to gain speed in your payoff and title release process.
RESOURCES TO SHOW YOU HOW
Get your team the training they need to maximize the value of Dealertrack Accelerated Title® for your dealership.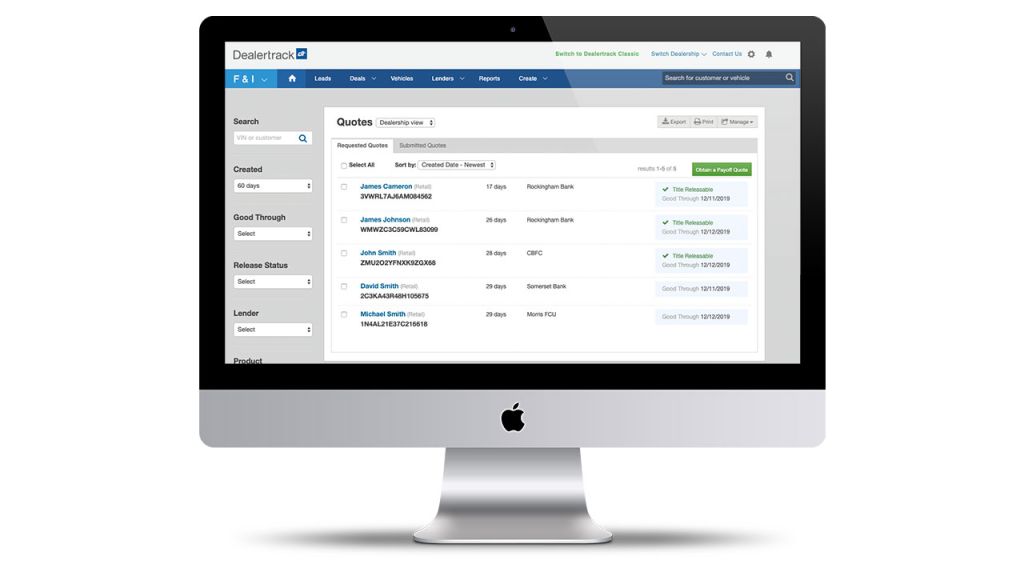 HOW TO
OBTAIN A PAYOFF QUOTE
Accessing Accelerated Title and getting a payoff quote.
[0:39 sec]
HOW TO
REVIEW A CUSTOMER QUOTE
Viewing full title details and gaining reliable payoff amounts.
[0:42 sec]
Easily initiating payoffs with a few simple clicks.
[0:37 sec]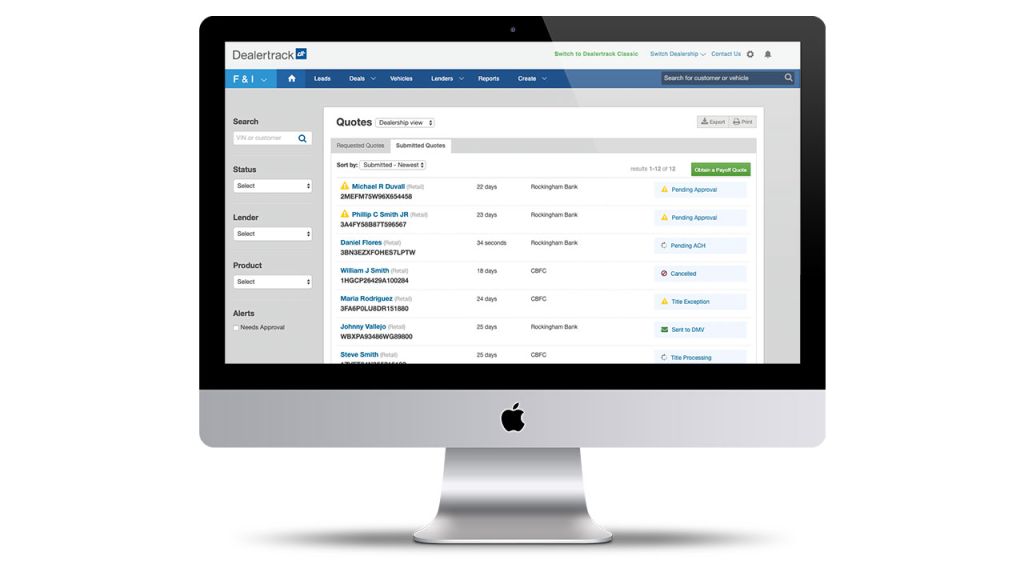 HOW TO
TRACK PAYOFFS IN REAL-TiME
Accessing submitted quotes and viewing real-time tracking info.
[0:34 sec]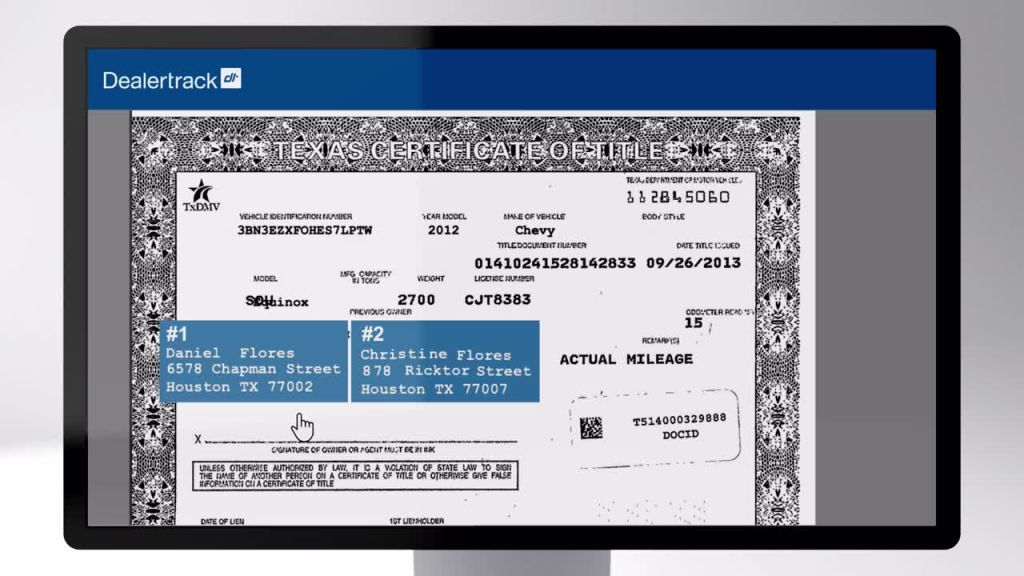 HOW TO
VIEW FULL TITLE IMAGES
View full title images details and avoid payoff surprise on trade-ins.
[0:27 sec]
HOW TO
VIEW FINAL PAYOFF AMOUNT
Receive a reliable, date-specific payoff amount in real time, without calling your lender.
[0:31 sec]
LIVE TRAINING
Request live training conducted by an Accelerated Title Dealer support specialist.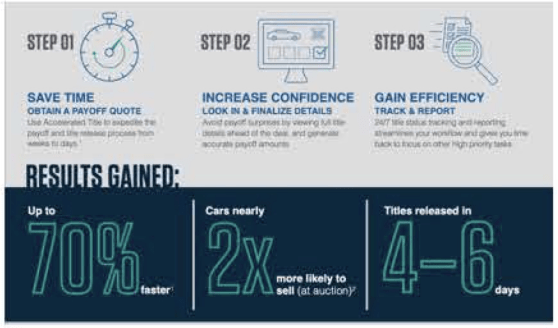 INFOGRAPHIC
See how three easy steps can equal big savings for you and your dealership.
ON-DEMAND TRAINING
Watch a pre-recorded session at your convenience.
WHAT YOU GAIN BY USING ACCELERATED TITLE
Watch the videos below to discover how the expedited Accelerated Title process improves upon the manual payoff and title release process.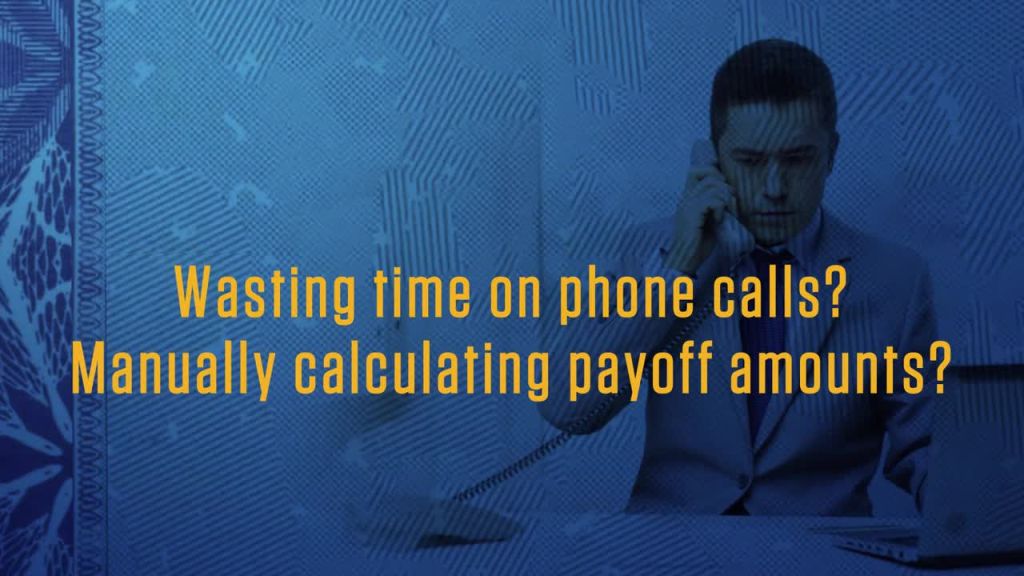 Reduce time spent on the phone with lenders and obtain payoff quotes from your desktop.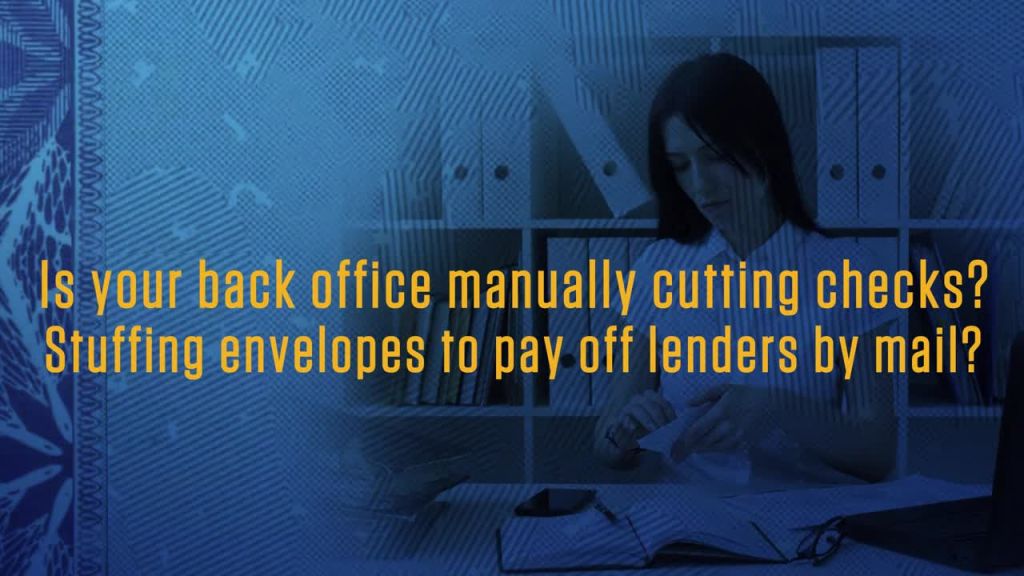 No more cutting and mailing checks. Pay off lenders via ACH with a click of a button.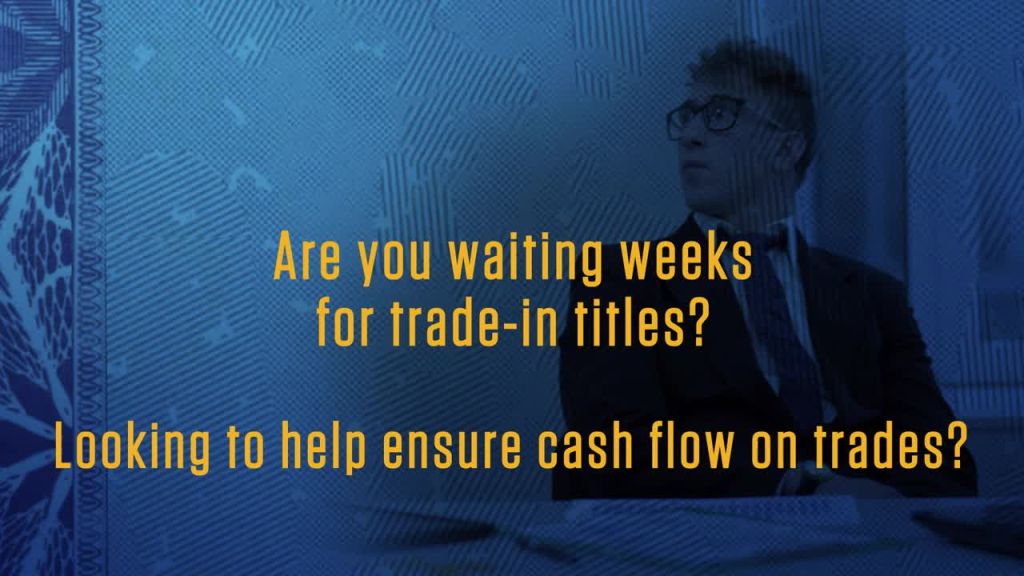 Faster title release helps you turn inventory more quickly to save on holding costs.