IS OUTSOURCING TITLE MANAGEMENT RIGHT FOR YOU?
If you're doing 100+ contract transactions with dealers, it sure does. And for more than 30 years, lenders managing that type of volume have trusted Dealertrack to handle all facets of their title management.
KEEP SCROLLING TO FIND OUT HOW
UNMATCHED COLLATERAL MANAGEMENT EXPERIENCE & EXPERTISE
You can trust Dealertrack to handle all of your title and collateral management needs. We pioneered outsourced title management and offer industry-leading experience and expertise.

Take a quick tour of our operation by clicking the play button at right — and for a deeper dive, access our in-depth video tour below.
PAPER & ELECTRONIC TITLES? WE HAVE YOU COVERED.
Juggling separate processes for paper and electronic titles is time-consuming and complicated. When you outsource title management to Dealertrack, all these problems are just…gone.
DIFFERENT REQUIREMENTS FOR DIFFERENT STATES? NO PROBLEM.
Doing business across state lines means understanding and complying with the nuances of each state's unique legal requirements. Eliminate learning curves and refresher trainings—you can reallocate staff time to move other priorities along when you outsource to Dealertrack. 
Here's more information to help you determine if Dealertrack Collateral Management and Business Outsourcing Services is right for you.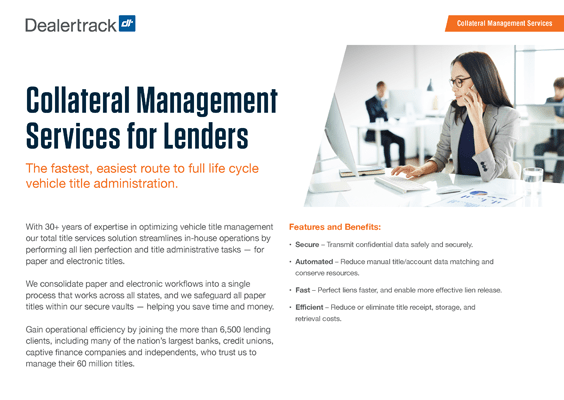 CMS Info Sheet
Automate lien and title administration with a partner who knows and does it best.
Electronic Lien & Title Info Sheet
Learn more about this simple and powerful way to reduce costs, eliminate delays and streamline processing.
Trust your title management to us.
 Fill out the form and we will be in touch.