MAKE TRADE-INS YOUR KEY TO CASH FLOw
Two weeks is too long to wait for trade-in titles. Save time and money with a digital solution that helps you clear titles in 4-6 days to turn inventory faster via retail or wholesale.
How does the manual payoff process compare?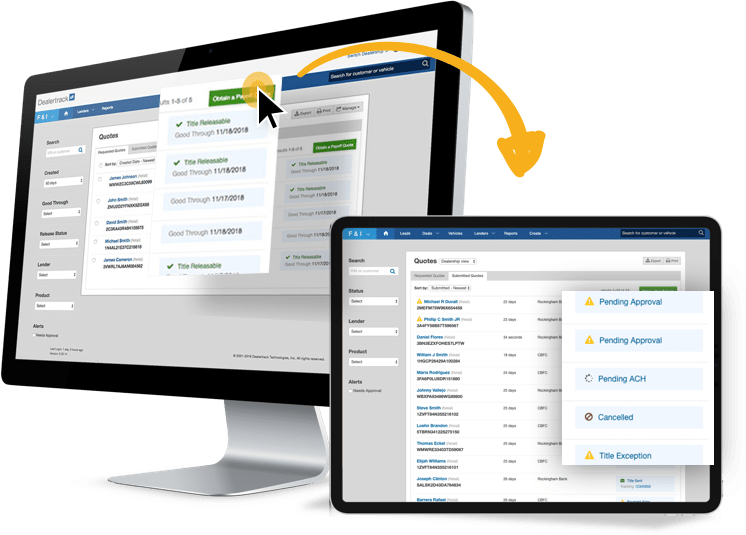 Keep Scrolling to learn more
BOOST YOUR TRADE-IN PROFITABILITY
Used inventory acquired through trade-ins remains a solid source of cash flow for dealerships.
A fast, streamlined process is essential to avoid bottlenecks in the flow of funds when retailing or wholesaling vehicles.
Cash flow opportunities are everywhere for dealerships with the right solutions in place to optimize their process.
Gain real-time insights into title details to eliminate payoff surprises.
Automate time-consuming manual processes to increase back-office efficiency.
Partner with a growing network of lenders to speed your payoff and title release process on trades.
WHAT YOUR DEALERSHIP STANDS TO GAIN
Secure profitability on trades while saving on holding costs and manual processes. The example below shows how much a dealership can save with Accelerated Title, with all values set to the average dealer's experience. Plug in your own numbers to find out how much your dealership could save.
ACCELERATED TITLE BY THE NUMBERS
Faster title release, gain titles in as fast as 4-6 days.1
Accelerated Title has seen 18X growth in lender adoption in 5 years.2
On average, dealerships are paying $37 per day, per vehicle that sits idle on their lot.3
Vehicles are nearly 2x more likely to sell on first pass at auction with title in hand.4
1Based on average industry timeframe for vehicle title release and vehicle payoff process of 18+ days, as determined by 2020 Dealertrack data. 2Based on Dealertrack internal data comparing lender subscriptions from 2015 through 2020. 3NCM Associates Group Study 2019 42018 (1.6X) Manheim Articles "Impact of Delayed Titles at Auction".
Access more information about the product and the value it provides your dealership.
START PROCESSING DEALS MORE EFFICIENTLY WITH
ACCELERATED TITLE