Experience the Unexpected.
You might be surprised by what you can accomplish with the right DMS partner.
Your Data. Your DMS. Your Success.
Dealertrack DMS is the dealer management system that does more, by connecting the data you need with speed and simplicity to the tools and resources driving better business decisions.
Dealertrack DMS​
With a simple, easy-to-use interface, 24/7 customer support and no long-term contract, Dealertrack DMS is the cloud-based solution to modernize your operation from end to end.
Integrated Payroll and HR Management
With powerful partnerships between Dealertrack DMS, Hireology and Netchex, you get more than just payroll software. You get a full suite of intuitive, empowering HR and Payroll solutions, including the support of industry experts.
THRIVE IN AN EVER-CHANGING AUTOMOTIVE MARKET
Make better decisions for your dealership with easier-to-use software and at-a-glance reporting that lets you see how your business is doing in real time, with best-in-class technology integrations to improve process efficiencies.​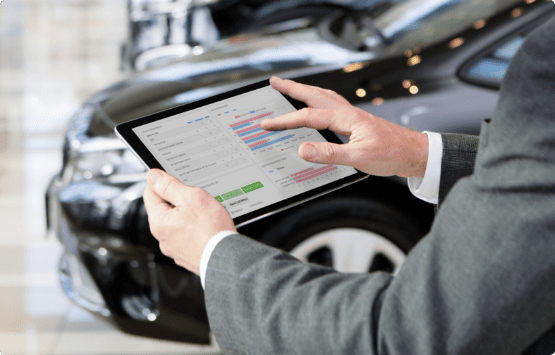 Insights You Can Trust (Without Hidden Fees)
Dealertrack DMS gives you an up-to-the minute view of your dealership's overall performance with keener insights to make more informed decisions and improve daily operations. Our transparent and open platform boosts productivity without adding on sneaky, hidden integration fees other DMS providers often charge.
Software That Works Well with Others
Dealertrack DMS integrates smoothly with your other technology systems, allowing dealers to work with preferred third-party vendors while reducing the friction between systems. With 180+ certified Opentrack Partners and 350+ OEM and third-party DMS integrations, you can expect a faster, more efficient workflow, making it easier for your teams to provide the optimal customer service experience.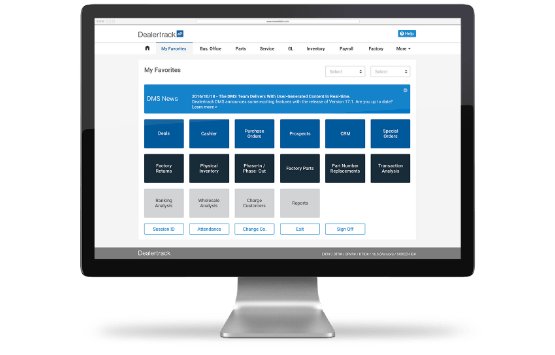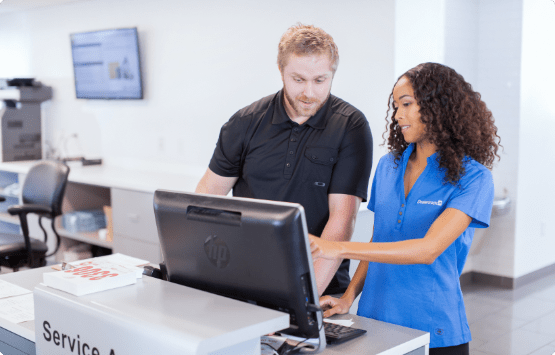 A Partner Committed to Your Success
Dealertrack DMS is more than just a vendor, we're a committed partner from day one and onward. Our contracts are dealer-centric, putting you in the driver's seat. And our support and training programs keep your teams engaged in their roles. Plus, with a dedicated Performance Manager in your corner, you'll have an industry expert with 10+ years of experience to ensure you're getting the most out of your investment.
Backed by the Power of Cox Automotive
Dealertrack DMS is backed by all the expertise of Cox Automotive, a company that's earned its reputation with a track record for consistently anticipating what's ahead in the industry. With built-in, enhanced integrations designed to upgrade the service you provide, you're in good company.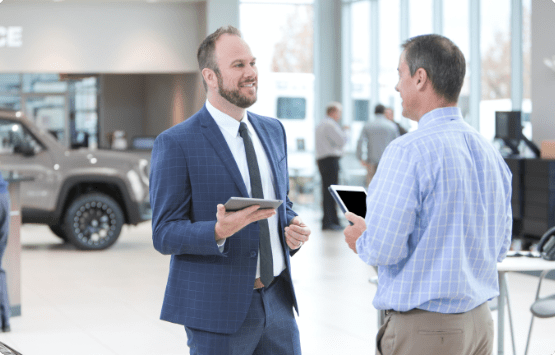 96% Customer Satisfaction
Hover over each state to read a dealer success story.
Rated #1
Easiest-to-use DMS system1
1According to independent research firm Lieberman.
Winner
Winner 2020 Dealers' Choice Award for best DMS2
2Auto Dealer Today 2020 Dealers' Choice Awards for best DMS
Raise your game with more powerful insights.
Schedule a demo today and expect more from your DMS. With instant insights and information at your fingertips, Dealertrack DMS is designed to help you run your business smarter.