Each year, automotive industry experts gather at the National Automobile Dealers Association event, or NADA. Now in its 100th year, the annual conference provides an opportunity for dealers, vendors, and technology providers to discuss the current state of the industry as well as its future. For the past 26 years, Sharon Kitzman has been attending and participating in NADA conferences. In her current role as Vice President and General Manager of Dealertrack DMS, she views the event as an opportunity to interact with dealers and to share her insights with the industry. She recently returned from this year's NADA conference, bringing with her a unique perspective on the industry's current innovations, opportunities, and challenges.
Dealertrack DMS: Having attended 26 NADA conferences throughout your career, how have you seen technology impact NADA?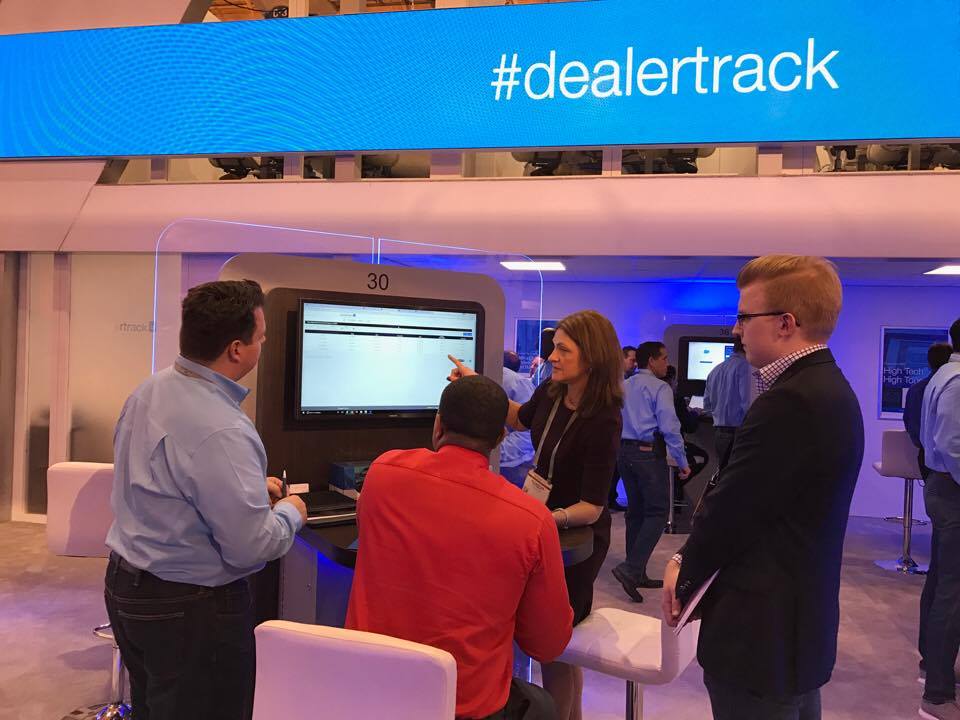 Sharon Kitzman: Many things have changed over the years, but there are a few that really stand out to me. One of them is an increased social media presence and the other is the increased role of mobile devices. Neither of those technologies were around 26 years ago. There first year I attended, we went to the hotel where the dealers were staying and literally did door drops. Dealers didn't have cellphones, so you couldn't text them to remind them about their appointments at your booth. You just kind of hoped they'd show up on time. We would send limousines to pick up dealers at their hotels at designated times and bring them to the booth. Now they just Uber around and nobody gives it a second thought. The dealers are going to get there on their own without a lot of intervention from us because it's actually more convenient for them to do so.
DT DMS: In conversations with dealers at NADA 100, what were some of the challenges that they frequently mentioned?
SK: Dealers repeatedly mentioned two major challenges. One is the realization that almost every car buyer is going online first and that consumers prefer to do as much as possible online before coming into a store. So, dealers are looking for solutions that enable their employees—whether in the sales department or the F&I office—to be able to easily pick up and discover everything that a consumer did online without having to ask too many questions. The consumer gets frustrated with that process. So, the idea that digital retailing is here and it's a reality is definitely a major topic of conversation.
The second thing on everybody's mind is a speculation or fear that the automotive industry might be headed into another recession or at least a plateau. With that in mind, dealers are focused on their fixed operations business, which tend to drive revenues and margin for them when sales start to soften. They are looking for solutions to drive more customers into the service drive and to sell more to customers within the service drive.
DT DMS: What did dealers encounter at NADA that has them feeling excited?
SK: Virtual reality seems to be a hot technology everywhere right now and NADA was no exception. There was a lot of buzz at the event surrounding virtual reality goggles that will allow consumers to perform test drives and to look inside vehicles, even when that vehicle isn't in stock. So, for example, even if a dealership didn't have the trim level a customer wanted or they were sold out of a particular model, they could offer a virtual tour of that vehicle.
DT DMS: What has dealers concerned right now?
SK: There is a new Chinese automobile company called Lynk and Company that is starting to sell vehicles in Europe. There are indications that the company in not going to implement a franchise dealer network. It's going to be factory only stores. The CEO of Lynk and Company spoke at the Automotive Retail Forum on the Thursday before the show and tried to address dealer concerns. But, really, there's no good way to address those concerns when they are saying they're going to market without you. That kind of disruption to the way the industry has successfully operated to this point obviously has dealers very interested and very worried.
DT DMS: Based on what you learned at NADA, what should the industry be focused on in 2017?
SK: I think the industry should focus on driving efficiency into their business at the dealer level. Everyone knows that the automotive industry is cyclical. It has been that way since the very beginning, right? About every seven years, we see some level of recession. Obviously, we don't know exactly when the next decline will occur or how deep it will go. But, whether we see a slight softening of the economy or another 2008, we can be sure that something will happen. The key for dealers in 2017, I think, is to get out ahead of it and figure out how to drive profitability without adding cost.