BY: CHELSEA VERSTEGEN
This article is authored by our partners at Hireology, the automotive experts providing HR Solutions for Dealertrack DMS.
Focusing on your employee experience during onboarding keeps employees engaged and sets them up for long term success. During difficult times of economic and personal turmoil — such as a global pandemic that's turned the world upside down — this approach becomes all the more essential.
Now more than ever, your team members need to feel supported. New employees rely on their onboarding experience to set them up for success in their daily roles, but also expect a sense of welcoming at their workplace, even if they are remote.
The first 90 days of the employment lifecycle is the most important, and poor onboarding can result in high turnover, which can present an incredibly large financial burden on your dealership. Replacing an employee can cost anywhere from 100-300% of the individual's salary.
Adam Robinson, Hireology's CEO and Co-founder, knows that an employee-first approach is what makes a business successful. "People are your product, and it's not possible to win without that being true," said Adam. Here are some tips on ramping up your employee experience in onboarding and beyond.
69% of employees that receive effective onboarding are more likely to stay with an employer for at least three years, so delivering a quality onboarding experience has the ability to impact your business for years to come. Here's how to ensure your onboarding process puts your employees first.

Start Before Day One
Just because your new hire isn't yet in your office doesn't mean you can't begin the onboarding process. You want the experience when they are physically in-person to be as engaging as possible, so send their paperwork and tax forms ahead of time. Digital paperwork also helps your HR team keep track of each document much easier — especially with a hiring platform like Hireology that integrates with your other HR platforms like your payroll and scheduling software, which eliminates the need for manual re-entry.
Give New Hires a Warm Welcome
It's an intimidating time to start a new job, especially in remote roles, so make sure your team makes new hires feel as welcome as possible. Announce their arrival in all-company meetings, instruct team members to reach out for some one-on-one time for getting to know each other, and give them some personalized company merchandise like a shirt, hat, or water bottle that they can sport with pride. This will put your new employee at ease and show them that they've made the right decision in coming to work at your dealership.
Keep the Onboarding Process Engaging
Hours upon hours of dull presentations won't keep anyone's attention for long, so in order to make onboarding as engaging as possible, you've got to switch it up. Have different employees host different sessions, create interactive periods or "Ask me Anything" sessions with your executive team, or host a new hire lunch with individuals from different departments.
Encourage interaction as much as possible, and make sure to cover all the fun parts about your company, too. Cover what makes your company great in a normal world and the craziness that is 2020 — showcase any initiatives your dealership has done to keep your team connected or any above and beyond efforts you've done this year.
Set Up Check-ins
Have managers set up time to check-in with new employees throughout their first few weeks. This will give new hires the opportunity to give feedback on their onboarding progress, as well as ask any lingering questions they may have. There's a lot to learn in the first few weeks of onboarding, so making sure the content is sticking is an important step to ensuring your employees are set up for success.
LinkedIn holds hiring managers accountable for the continuation of onboarding efforts beyond a new hire's first day, so take a page out of their onboarding book and require your managers to continue the check in process throughout the employee lifecycle.
Demonstrating to your employees that they are your most critical business asset will keep them from jumping ship, and the perfect time to start is during their onboarding process. Hireology was designed to transform the way retail automotive dealerships hire and onboard their team. If you're interested in learning more about Hireology's people-first strategy to hiring and onboarding, you can schedule a free demo here.
Join us at Cox Automotive Experience — Reserve your spot today — and be surprised by what you can accomplish with the partners.

About the author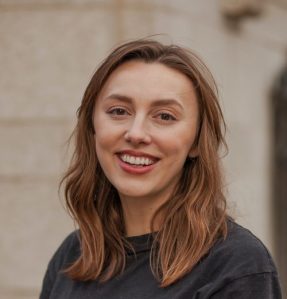 Chelsea is a content strategist at Hireology. She moved to Chicago from Texas in 2017, and has since worked in content creation roles at other SaaS companies with the intention of creating thoughtful, industry leading materials. Chelsea attended Texas State University with a major in Journalism and a minor in English.